Canada's 'Prince of Pot' admits marijuana seed dealing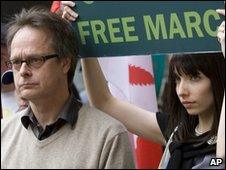 A Canadian cannabis advocate has pleaded guilty to selling millions of marijuana seeds in the US in exchange for an agreed five year jail term.
Marc Emery appeared in court in Seattle after being extradited from Vancouver.
Emery, who became known as the Prince of Pot, sold millions of marijuana seeds around the world by post before his 2005 arrest.
His seeds were traced to illegal cannabis-growing operations in the US, US drug enforcement officials said.
Emery's sentencing hearing is scheduled for 11 August, and he or prosecutors can withdraw from the plea deal if the judge issues a different sentence.
A vocal advocate of legalising cannabis Emery was arrested in Canada on a US extradition request, but bailed amid legal efforts to have him serve time in Canada if convicted.
His wife Jodie has called his extradition an "outsourcing of justice".
In a recent interview Emery said he had no regrets about his online dealership that sold seeds to consenting adults, the Associated Press reported.