The rise of citizen-run websites
By Jane Wakefield
Technology reporter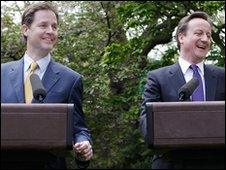 Politicians of all colours were keen to embrace web tools as a way of reaching out to the electorate but, as the new coalition government settles in, will it continue to be a two-way conversation?
In early June Socitm, the organisation for public sector IT professionals, criticised election coverage on council websites, saying information was patchy, hard to find or out of date.
The presentation of information on government websites can put off an audience canny at seeking out alternative sources of information.
In their place, local sites dealing with local issues are gradually becoming powerful campaigning tools for both the politically motivated and those who simply care about the area they live in.
It is estimated that there are around 160 local sites, forums and blogs in the London area alone.
Some are devoted to local information or history while others are more overtly political.
Harringay Online, for example, hosted its own election special, offering citizens in the London borough insights into the councillors standing in the local elections which ran alongside the national campaign.
As well as offering videos of each candidate, to allow people to put a face to a name, it dug into their background, laid out their policies and rated them on how much time they spent online.
National politicians would do well to look at how such sites operate, thinks Labour councillor for Haringey Alan Stanton.
For him, Harringay Online has become a bible on all local information and gossip, from problems with potholes to housing scandals.
In terms of reaching out to the people he represents, the site has acted as a kind of "interactive surgery", although being involved has also got him into trouble.
"The chief whip realised I was commenting on scandals and they deselected me for a while but I told them that I was not taking things down," he said.
Haringey became the centre of attention as a result of the Baby P case and much of the anger at how the authorities handled the case spilled out on the website.
It is because of sites such as Harringay Online's ability to pose tricky questions and demand answers that social media has yet to be embraced in the political mainstream, thinks Mr Stanton.
"We don't trust social media," he said. "We think a great wave of anger will wash over us."
"Most councillors are deeply suspicious," he added. "Many are still at the stage of 'we are the council and we tell you what to do'."
But for citizens, the growth of such sites offers undreamt of power.
"Websites can be a form of deliberative democracy," said Mr Stanton. "People can be digital detectives as everyone has a mobile phone with a camera."
The social aspect of such sites should not be underestimated in an age where the traditional meeting places have become fragmented.
"This is a cosmopolitan town and yet a site like Harringay Online allows people to build similar relationships to the traditional village green," he said.
Politicians ignore such sites at their peril, he warned.
"We shouldn't try to harness it," he said. "We can be part of it, contribute to it and listen to it but shouldn't try and colonise it."
The site has moved beyond a virtual forum to become a touchstone for a variety of offline activities, from regular meetings down the pub to parties and local festivals, including the Haringey Green Lanes Food Festival which was attended by more than 10,000 people.
Harringay Online was originally set up in 2007 by founder Hugh Flouch who felt powerless about dealing with traffic problems in his neighbourhood.
He thought that the same rules that had made social networks so popular at a global level could be applied to the minutiae of local life.
"It is a platform for people to connect, know about the area and what is happening locally," he said.
It now has 2,250 members, which may not sound like many but in terms of readership it extrapolates nationally to the equivalent of the Newsnight audience.
As well as being the starting point for a range of campaigns the website can help with more mundane problems too.
During the cold weather this winter visitors were able to do a better job than the local council, organising citizens to clear pathways of snow that had been left by the local authority.
Mr Flouch has some basic tips for government looking to engage with or mimic such sites.
"The first lesson is to loosen the reins of control. If they are not controlling it then that is a good start," he said.
Brockley Central is a blog which attracts 1,000 people a day and has quickly become a favourite among local councillors.
The deputy mayor of Lewisham was invited to come and hear from readers about their experiences and the council's head of environment has written exclusively for the site.
It has taken on an important role in the community, helping to shape policies in the London borough of Lewisham.
Each year the council allocates a certain amount of its budget to local community schemes and decided to consult the public on how it should be spent, via the blog.
"In the past the funding was known about only by certain people and only they turned up for the meetings. It was a kind of old boy's club," said Nick Barron, founder of Brockley Central.
"Now it has been opened up to the online world it has exposed some bad ideas to public debate for the first time,"
Blogs with a political message can help bring in an audience that has traditionally been switched off from the political process.
"The audience is typically younger," said Mr Barron. "Social media allows everyone to do it including those with less commitments of time."
Such blogs could threaten or even replace council websites, thinks Mr Barron.
"The problem with council run sites is they lack content, are not good at tolerating debate and as a consequence are incredibly boring to read"
According to the Hansard Society, 70% of online Britons feel that the internet has enabled them to take part in democratic life.
Edemocracy expert Andy Williamson from the Hansard Society thinks it is time that politicians sat up and took notice
"Citizens do not want the passive, broadcast-only relationship with their MPs that has existed until now, they wish to communicate and engage, to track and contribute to the democratic debate," he said.
"Higher levels of engagement and wider participation in the democratic process will only happen when citizens feel that they are a central part of it," he added.
Sites such as Harringay Online and Brockley Central can play a huge role in changing the way people interact with politicians, thinks Kevin Harris, of consultancy Networked Neighbourhoods.
"We see networks such as these as part of a fundamental shift towards conversational democracy," he said.
He cites the example of the popular East Dulwich forum, a very active site with 12,500 members.
When local Liberal Democrat councillor James Barber asked local people to talk to him via the forum he got a positive response.
"It is all about a conversational style. He didn't go in with a political message," said Mr Harris.
Beyond politics, local websites can be powerful in other ways.
"Local tradespeople say they get lot of business through their local site but they also live in fear of the bad review," said Mr Harris.
There is anecdotal evidence that local forums, website and blogs increase peoples' civic engagement, with people more likely to report crime, look out for their neighbours and get involved in local projects.
"Connections between people definitely appear to be strengthened," he said.
Related Internet Links
The BBC is not responsible for the content of external sites.