Queen's Speech: 'Flexible working for all' plan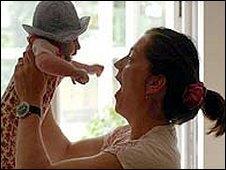 All employees could eventually have a right to request working flexible hours, under plans by the government.
The Queen's Speech and the coalition programme mentioned plans to "remove barriers" and "extend" the rights of flexible working.
At present, parents and carers of disabled adults are allowed to ask their employers for convenient hours.
But the extension to all employees is unlikely in this session of Parliament.
The government has pledged to consult with business groups on how best to proceed with the plans.
Millions of parents already enjoy the right to request flexible working - such as changing shifts, varying start and finish times, working from home or shifting to part-time hours.
Parents with children up to the age of 16, or parents with disabled children up to 18, can request flexible working patterns as long as they have at least 26 weeks of service.
The same is true for some carers looking after disabled adults.
Employers must seriously consider such a request, although they are within their rights to turn it down for sound business reasons.
The government's ultimate aim is to extend this right to all workers, following consultation with business.
The plan has received a mixed response so far.
"Businesses across the country already offer flexible working - with a huge majority honouring employees' requests to work in a different way," said David Frost, director general of the British Chambers of Commerce.
"We do, however, have serious concerns over any additional government regulation in this area, whether this occurs now or in the medium term.
"Given that businesses and government are working closely together on non-legislative solutions, the key is to avoid compulsory, tick-box exercises that add new costs and bureaucracy for businesses."
But TUC general secretary Brendan Barber said: "Extending flexible working rights to all employees and further action to close the pay gap could also bring positive changes to UK workplaces."
Related Internet Links
The BBC is not responsible for the content of external sites.