Manchester Victoria station's £30m revamp now uncertain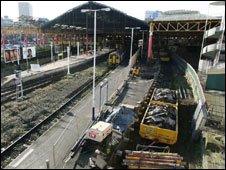 The £30m redevelopment of Manchester Victoria station is uncertain after the government cut the Department for Transport (DfT)'s budget.
The DfT pledged £5m towards the redevelopment, as part of its £50m project to upgrade the 10 worst stations in England, last November.
But the new coalition government has scrapped the £50m project, as part of £683m of cuts at the DfT.
Network Rail said the improvements at Victoria may have to be scaled down.
The station was named as the worst in the country last November.
Network Rail spokesman Keith Lumley said: "We need to try to look at other funding sources to see if there are any we haven't dipped into, or look at the scope of work planned. We may have to scale it down."
Improvements to six other stations in North West England - Liverpool Central, Stockport, Crewe, Warrington Bank Quay, Wigan North Western and Preston - which were also due to be funded by the Department for Transport have been scrapped, Network Rail said.
Emma Antrobus from North West Rail Campaign said the cuts were disappointing.
She said: "We have lobbied long and hard for improvements in the North West because we feel that the lions' share of transport funding has been directed elsewhere.
"We thought it was coming to our time... and it seems that is not to be any more."