Arthur Conan Doyle's debut 'to make £400,000'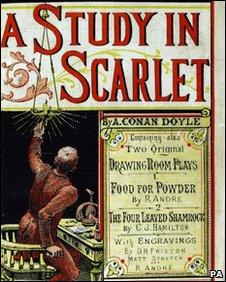 A rare inscribed copy of Arthur Conan Doyle's first published novel featuring detective Sherlock Holmes' debut appearance is to go under the hammer.
The copy of A Study in Scarlet is expected to fetch up to £400,000 when it is auctioned at Sotheby's in London on 15 July.
The novel introduces Holmes and explains how he and Dr Watson came together, the auction house said.
The book is one of only two inscribed copies known to exist.
It is up for sale as part of an English Literature, History, Children's Books and Illustrations sale.
The book was initially rejected by a succession of publishers but was finally printed in 1887 in Beeton's Christmas Annual.
A Study in Scarlet features Holmes's first words on meeting Dr Watson: "How are you? You have been in Afghanistan, I perceive."
It also includes Dr Watson's first impressions of Holmes: "His very person and appearance were such as to strike the attention of the most casual observer.
"In height, he was rather over six feet, and so excessively lean that he seemed to be considerably taller.
"His eyes were sharp and piercing, save during those intervals of torpor to which I have alluded; and his thin, hawk-like nose gave his whole expression an air of alertness and decision."
Peter Selley, senior specialist in Sotheby's books and manuscripts department, said a copy of the book made over $150,000 (£105,000) at Sotheby's in New York in 2007.
But no signed or inscribed copy has ever been up for auction since the work was first published.
Sir Arthur Conan Doyle's unpublished first novel was called The Narrative of John Smith.
Related Internet Links
The BBC is not responsible for the content of external sites.