Spring mortgage lending subdued, banks say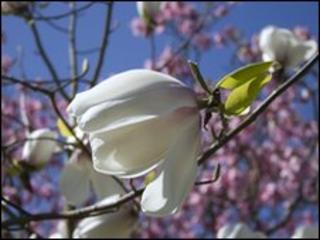 Mortgage lending remained subdued in April, according to figures from the UK's major banks.
There was little sign of the traditional "spring bounce" as the number of mortgages approved remained relatively unchanged.
The number of home loans approved for house purchases stood at 35,729 in April, up 685 on March, the British Bankers' Association (BBA) said.
Households were concentrating on paying off debts, the BBA added.
Demand
Net mortgage lending by the major banks fell to £1.8bn in April, the BBA said. This was its lowest level since February 2001, and down on the £2.3bn of March and the average for the six months prior to April of £2.7bn.
The number of mortgages approved for house purchases was down on the previous six month average of 39,309, although the figure was higher than the same month a year ago.
The subdued level of lending is likely to be reflected in the level of house sales in the coming months.
Remortgaging and equity withdrawal approvals also fell in April compared with March, the BBA said.
Safety first
The figures point to a trend of consumers trying to live within their means - with people paying back more of their debts than taking on new debt.
Net consumer credit lending shrank by £0.3bn in April. This was driven by loans and overdrafts where repayments outstripped new lending by £507m.
Demand for new loans in April was 18% lower than the same month a year ago. Credit card lending increased slightly in April.
"Household priorities are clearly reflected in these latest data, with people paying down debt rather than building up savings, even in the main Isa [Individual Savings Account] season," said David Dooks, BBA statistics director.
"Uncertainties about the impact of government policies and the economy on households and businesses will continue to dent consumer confidence and influence decision-making."
Howard Archer, chief UK economist at IHS Global Insight, said: "The ongoing muted BBA mortgage approvals data reinforce our suspicion that house prices will struggle to make significant gains over the coming months
"Housing market activity is limited, the economic fundamentals are still far from robust for the housing market, credit conditions remain tight, and house price to earnings ratios have moved back up."
Rental picture
He said more properties were coming onto the market, making the market more attractive to buyers.
Some of this new supply could have come from those who had previously been reluctant landlords, and who had been waiting for the market to pick up before selling.
A shortage of homes in the rental sector has pushed up average rents at the start of 2010, according to the Royal Institution of Chartered Surveyors (Rics).
Surveyors said, during the three months to April, 30% more of its members reported seeing rising rents than those who saw falls.
This was a gloomier picture for tenants than the previous quarter.
"With sellers back in the housing market, supply has fallen back in the letting sector," said Rics spokesman Jeremy Leaf.
"This is good news for landlords as rents are set to move higher in the coming months and yield returns are likely to improve."
Tenant demand was strongest in London and the East of England, where rents also increased the most.