Ghanaians flee violence for northern Togo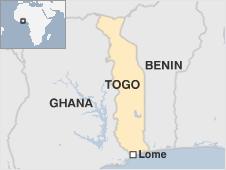 Some 3,500 refugees have crossed into northern Togo from Ghana, Togo's security minister says.
They are victims of ethnic conflict and land disputes in the northern part of Ghana, he said.
The refugees started arriving last week and consist mainly of women, children and young people.
A BBC reporter in Togo says Ghanaian refugees fleeing into northern Togo to escape unrest at home has become a regular occurrence in recent years.
However, Ghana's Information Minister John Tia sought to downplay the trouble.
He told the BBC's Focus on Africa programme that the violence occurred two weeks ago and that far fewer than 3,500 had fled their homes.
He said some people were taking advantage of the offer of assistance from the UN in Togo.
Temporary shelter camps have been set up in Tandjouare in northern Togo.
After visiting the camp, Security Minister Colonel Mohammed Atcha Titikpina said:
"We have come in the name of the government of Togo to express our sympathies and solidarity with our [Ghanaian] brothers and sisters.
"Our immediate task is to find the resources to provide these refugees with emergency relief supplies, security, feeding, clothing and temporary rehabilitation structures."
In 1994-95, land disputes in northern Ghana erupted into ethnic violence, resulting in the deaths of 1,000 people and the displacement of a further 150,000.