Spector releases album from jail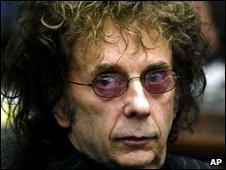 Pioneering music producer and convicted killer Phil Spector has released his first album in 30 years, his publicist has said.
The 70-year-old, in prison for the 2003 shooting of a Hollywood actress, produced the tracks for the record during his two murder trials.
Out of My Chelle is the debut album of Spector's fourth wife Rachelle.
"She's fantastic on this album," Spector said. The album will be released digitally on 8 June.
Spector and Rachelle, 29, married in 2006, three years after he was arrested for the murder of actress Lana Clarkson.
The couple worked on the album for more than two years between Spector's first trial - which ended in a mistrial in 2007 - and his second, which resulted in a conviction last year.
Spector is best known for creating the distinctive Wall of Sound technique and for some of the most memorable pop hits of the 1960s for acts like Tina Turner, the Ronettes and the Righteous Brothers.