Oil leaks from tanker collision off Singapore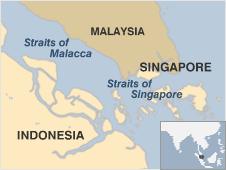 Emergency teams are working to contain a crude oil spill after two ships - a tanker and a bulk carrier - collided in waters off Singapore.
Port officials said no injuries had been reported but the Malaysian-registered tanker had ruptured one of its tanks.
An estimated 2,000 tonnes of crude oil are leaking into the sea.
The collision happened in the Strait of Singapore, one of the most important shipping lanes in the world.
Singapore's Maritime and Port Authority (MPA) said the Malaysian-registered tanker Bunga Kelana 3 was damaged in a collision with the MV Wally, registered in St Vincent and the Grenadines.
The Bunga Kelana 3 was carrying light crude oil and condensate.
"The collision caused a 10-metre (yard) tear in the left side of the tanker and 2,000 metric tonnes of crude oil has spilled into the sea where the collision occurred," Cmdr Abdul Hadib bin Abdul Wahab of the Malaysian Coastguard told Reuters.
Both ships are anchored off Singapore as work continues to contain and clean up the oil spill.
The Malaysia-based operators of the tanker, AET, said booms were being placed around the vessel to contain the spill.
Salvage operators said the oil could damage the local environment but that the speed of the response had reduced the impact.
"I think it can be controlled - 2,00r who asked not to be named told the AFP news agency.
There was no reported effect on shipping traffic in the Strait of Singapore, one of the world's busiest sea lanes, connecting trade routes from Asia to Africa and Europe.