Facebook outstrips Arab newspapers - survey
By Magdi Abdelhadi
BBC Middle East editor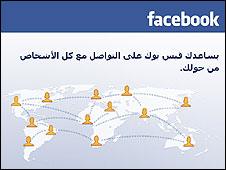 There are now more Facebook users in the Arab world than newspaper readers, a survey suggests.
The research by Spot On Public Relations, a Dubai-based agency, says there are more than 15 million subscribers to the social network.
The total number of newspaper copies in Arabic, English and French is just under 14 million.
The findings seem to confirm the increasing popularity of the social interaction platforms in the region.
Spot On Public Relations, a marketing and communications agency, says the figures show that such platforms are beginning to define how Arabs discover and share information.
In Egypt alone, there are 3.5 million users, which is way beyond the circulation of any of the biggest dailies.
Even in conservative Saudi Arabia, people have been quick to embrace Facebook. It is the country with the second-largest membership after Egypt.
One-third of the population in the United Arab Emirates are said to be on Facebook.
The findings should come as no surprise. The majority of the region's more than 300 million people is young, and internet use is on the rise.
In societies where political freedoms are severely limited, many have also resorted to Facebook as an alternative to the public sphere.
But the survey does not provide a detailed breakdown of how it is used in Arab countries - for example how much of it is for chatting and making friends and how much is for political and social campaigning.
But it contains valuable information for advertisers who want to reach the largest possible number of people.
Related Internet Links
The BBC is not responsible for the content of external sites.