South Koreans divided over Cheonan response
By John Sudworth
BBC News, Seoul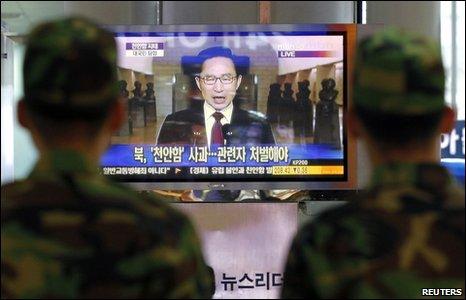 Outside observers often remark about how little the rising tensions between the two Koreas seem to trouble the citizens of Seoul.
They live within striking distance of the artillery pieces that North Korea keeps trained on this city - weapons that would cause thousands of casualties within minutes if their stocks of conventional, chemical and biological shells were unleashed.
In my time here I have seen North Korea's second nuclear test come and go. I have seen it hurl a long-range rocket half-way across the Pacific Ocean and I have reported on the stream of hostile comment coming out of Pyongyang.
Throughout, Seoul's rhetoric-weary masses have barely batted an eyelid. Perhaps it is different this time.
The sombre-looking South Korean president, addressing the nation on Monday, certainly seemed to think so, telling his fellow countrymen that the sinking of the warship in March should be a wake-up call.
"We had been forgetting," Lee Myung-bak said, "the reality that this country faces the most belligerent regime in the world."
The Cheonan, a 1,200-ton gunboat, was split in half by an explosion on 26 March.
The evidence produced last week pointing to North Korea's involvement appears to be proof of an act of extraordinary aggression.
Using a submarine to stalk and then torpedo a warship on routine patrol, with the loss of 46 lives, is an act of an entirely different category to the kind South Koreans have become used to from their northern neighbour in recent years.
It goes far beyond the missile tests, or the brief exchanges of fire that have taken place between surface ships from the two navies.
And it appears to be final confirmation, if any were needed, that the more optimistic era of just a few years ago, a time of rapprochement between the two Koreas, has come to an end.
Tuning in to South Korea's rapid-fire exchanges of online opinion makes for interesting reading.
"Does this mean we are prepared to go to war?" one commentator asks. "I feel deeply afraid that war may break out."
There is both praise and condemnation for the response announced by the president, which includes cutting trade links and a ban on North Korean ships entering South Korean waters.
"We couldn't just let the attack go unpunished," a man called Taek-sung writes.
He laments the large amount of aid and trade provided during the "sunshine" decade, when more liberal southern governments tried to break the cycle of escalating tension by building links with the North.
But another writer wonders whether the conservatives now in power have gone "insane".
"Is it OK to turn the country into tatters just to fulfil their Cold War-minded pride?" he asks.
What these conversations reveal is that recent events have thrown into sharp relief a long-running South Korean debate.
Is it better to embrace a hostile and prickly enemy, and risk being taken for a fool, or to confront him, and risk backing him into a corner?
War is of course far from imminent, but there are real risks in the current deterioration in relations.
One measure announced by South Korea is the resumption of "psychological operations", the broadcasting of propaganda messages across the border.
North Korea's response was almost immediate, a threat to open fire on these loudspeaker positions.
Away from the online world, South Korea's more mainstream media is busy pondering the role of China in all this.
Many editorial writers want the economic giant to come off the fence and join the international condemnation of Pyongyang.
"It is time for China to act according to its global status… even if that means sacrificing a few of its interests in relations with North Korea," the Chosun Ilbo newspaper writes.
In these troubling times some South Koreans are wondering whether they were not better off trying to engage with the North, however unpalatable that prospect might be, rather than pushing it into further, more dangerous isolation.
Related Internet Links
The BBC is not responsible for the content of external sites.