Ian McEwan novel gets top pig honour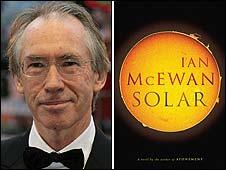 Booker-winning novelist Ian McEwan has brought home the bacon thanks to a quirky literary prize that will see a pig renamed in his honour.
The writer has been named the recipient of the Bollinger Everyman Wodehouse prize for his comic novel Solar.
As part of his award, a Gloucestershire Old Spot pig will be renamed Solar at the Hay literary festival this week.
Now in its 11th year, the prize honours novels thought to have best captured the comic spirit of PG Wodehouse.
McEwan, whose other novels include Atonement, Enduring Love and Amsterdam, will meet the pig on Friday during a visit to the festival in Hay-on-Wye, Powys.
He will also be presented with a jeroboam of champagne and a collection of PG Wodehouse works.
David Campbell, judge and publisher of Everyman's Library, said the decision to reward Solar had been "easy [and] unanimous".
"This is a brilliantly funny book by a great writer," he added.
Focusing on the issue of climate change, Solar tells of a Nobel prize-winning physicist who gets the chance to save the world from environmental disaster.
Previous winners of the prize that also had pigs named after them include DBC Pierre's novel Vernon God Little and A Short History of Tractors in Ukrainian by Marina Lewycka.
Related Internet Links
The BBC is not responsible for the content of external sites.