Japan bids for Royal Welsh Show sheep shearing honours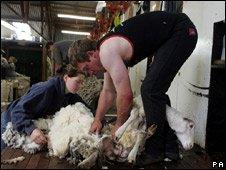 Japan, a country not known for its sheep, will be among 27 nations vying for shearing honours at this year's Royal Welsh Show.
It will compete against the likes of Wales, Australia and New Zealand.
The competitors will shear about 5,000 animals in pursuit of the top prize at the show in July.
There will also be representatives from the United States, the Falkland Islands and South Africa.
The countries are taking part in the Golden Shears World Shearing and Woolhandling Championships.
Show officials said it was a major attraction and visitors enjoyed watching as shearers clipped a sheep's fleece in a trial against the clock.
To accommodate visitors and the fans of the shearing teams, an additional grandstand is being positioned opposite the showground's Meirion Shearing Centre and there will also be a large viewing screen.
The Royal Welsh Agricultural Society is spending £150,000 on staging the championships which will begin on the first day of the show on 19 July.
Related Internet Links
The BBC is not responsible for the content of external sites.