South African royal family ready to host World Cup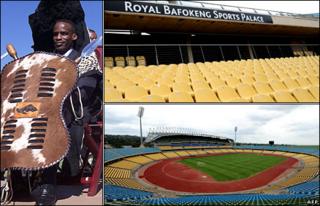 England's World Cup football team will soon be hosted by one of Africa's richest royal families, in a five-star establishment in the sleepy South African town of Rustenburg.
The English players will be based at the Royal Bafokeng Sports Palace, a complex boasting a luxurious hotel, training pitches, a sports clinic - a few metres from the equally impressive Royal Bafokeng Stadium where they will play their first match on Saturday 12 June.
The "sports place" was built by King Lerou Tshekedi Moletlegi, who leads the Bafokeng people, with the wealth his family has accumulated from the platinum in this region of South Africa's North West Province.
The royal family owns a number of the platinum reserves after winning a legal battle with mining giant Impala Platinum in 1999 and are now entitled to a 20% share of all the platinum mined in the region worth billions of dollars each year.
Joseph Rapetsana, a Bafokeng elder who reports to King Moletlegi, speaks proudly of the stadium and the new establishments built to the England team's specifications.
"The England team wanted a world-class pitch, we have provided that," he says.
"They asked for a world-class accommodation, we provided that. We believe we have more than met their expectations," he adds, beaming.
Barbecues and alcohol
Rustenburg is actually one of the largest platinum producers in the world, although you would never know it.
The stadium is built in the town's Phokeng township, and a few metres from the World Cup precincts lie small houses and narrow streets - the true heart of the community.
For although this region provides more than 75% of the world's platinum, you would never know it as it remains quite modest.
Rustenburg is still faced with the problems confronting many parts of rural South Africa: poverty, unemployment and illiteracy.
The town has a population of more than one million and it contributes 4.9% to the national Gross Domestic Product.
Those with jobs are either employed in the local mines or in the small businesses in town.
People who cannot find work tend to start their own informal businesses, which include "spaza" shops, make-shift kiosks usually made from wooden planks.
Each street has at least one hair salon, usually built with corrugated iron.
But the lifeblood of the township scene is the many "tsisanyamas" - make-shift pubs and grills where the residents hang out, drink and barbecue - and whose owners are looking forward to the World Cup.
They plan to stock up on meat and alcohol to cater for the international and local fans.
"As business people we are hoping to draw in crowds, provide food, drinks and entertainment," says Lesego Segoe, the owner of the Good Luck Cafe and Take-Away, who has lived in the township for 10 years.
White elephant?
But he has some reservations about the event.
"We are excited about the World Cup because we will see international players but what happens after the World Cup?" he asks.
"What happens to the poor, what will the World Cup do for them?
"There are just not enough jobs. Many people here are unemployed and it seems to be getting worse.
"Millions have been spent on building a stadium, what about schools, hospitals and jobs?"
Still, Mr Segoe hopes the influx of football fans will "finally" put Rustenburg on the international map and with it bring in local investors.
"I hope once the world has seen the potential Rustenburg has they will invest in this town which will create jobs for many here," he says.
Florence Sefuno, a manicurist at a salon in town, is also looking to the World Cup for business by creating a range of nail flag designs for her clients.
"I want to design flags for the tourists, I think they will enjoy that," she says.
"I am excited about the World Cup, excited that such a big event is coming to our small town, who knows what sort of opportunities it will create for us?"
She believes the critics who argue the "sport palace" is a waste of money are being short sighted.
"This was the only way we were ever going to attract large crowds to this area. I think if we are patient we will slowly reap the rewards," she says.
And the Bafokeng royals clearly believe their investment will leave lasting benefits for their communities and dismiss fears that the sports palace will become a white elephant.
One of the keys to ensuring this does not happen includes developing grass-roots football, plus athletics, basketball, swimming and rugby.
Mr Rapetsana says this will benefit the more than 11,000 children from the villages surrounding Rustenburg.
"Many games will be played here long after the World Cup," he says.