British Chambers of Commerce wants red tape cut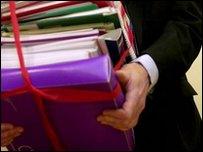 The coalition government has been urged to halt the "relentless flow" of red tape, after a report said the cost to business was £88.3bn last year.
The study has come from the British Chambers of Commerce, which said the burden grew by £11bn in 2009 after the UK adopted 40 new European regulations.
The Conservative-Liberal Democrat government has already promised to reduce business regulations.
It has pledged to remove one old regulation for each new one adopted.
The government has also promised not to "gold plate" or add to any new European rules.
The British Chambers of Commerce (BCC) said its Burdens Barometer report indicated that almost a third of the regulatory burden came from European Union directives last year.
"The cost of dealing and complying with new laws and regulations over the last 12 years has been far too high," said David Frost, director general of the BCC.
"During this critical time for the economy, we need businesses to be driving recovery and creating jobs.
"The government must play its part by putting the brakes on the relentless flow of red tape."
Mr Frost said Tuesday's Queen's Speech - which will outline the new government's legislative programme for the parliamentary year - was the "perfect opportunity" for the administration to start repealing regulations.
He added that there also needs to be an urgent and sweeping review of all regulations that incur costs for business.
The BCC further wants to see a moratorium on new employment laws until at least 2014.
Francis Chittenden, from the Manchester Business School, which helped compile the report, said regulation was "like taxation".
"It raises business costs and so reduces the amount of business activity conducted in the UK," he said.
Business minister Mark Prisk, a Conservative, said the BCC should "be commended for highlighting the burden of regulation".
"The new government sees reducing the burden of regulation as a vital priority in helping free enterprise and enabling our economy to grow," he added.
"Red tape has become a huge problem and I am determined to overcome it."
Related Internet Links
The BBC is not responsible for the content of external sites.