Kabul police uncover major cache of rockets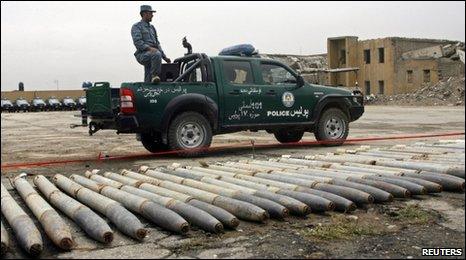 Afghan police say they have seized a cache of hundreds of rockets hidden on the outskirts of the capital Kabul.
The find included 278 122mm rockets with a range of 20km (13 miles) and 15 rockets with a range of 30km, city police chief Abdul Rahman Rahman said.
No arrests had been made in relation to the find, he told reporters.
It followed reports that the Taliban were planning attacks on Kabul during a peace meeting of community and political representatives next weekend.
"We had reports that Kabul might be under threat from the north-east and north-west sides of the city," Mr Rahman said.
He alleged that intelligence reports pointed to the involvement of foreign elements.
"Some elements were paid to relocate these rockets and intelligence gathered shows around 20 million Pakistan rupees ($240,000) was promised to those who undertake the launching," he said.
Afghan officials often accuse elements in Pakistan of supporting the Taliban. Pakistan denies the accusations.
The find comes as three UK cabinet ministers, led by Foreign Secretary William Hague, are in Kabul to meet political and military leaders in the Afghan capital.
Mr Hague, Defence Secretary Liam Fox and International Development Secretary Andrew Mitchell are looking at ways to accelerate Afghan troop training.