Thousands of fans watch Cardiff City lose at Wembley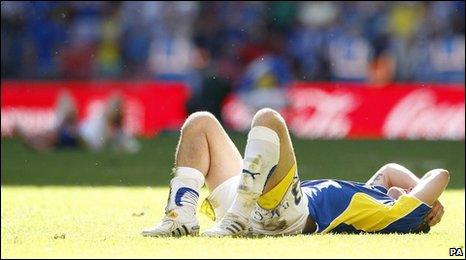 Thousands of Cardiff City fans watched in agony as their team lost the Championship play-off final to Blackpool at Wembley.
Cardiff could not pull back a 3-2 half time deficit. They had led twice in the game, through goals from Michael Chopra and Joe Ledley before falling behind.
Meanwhile, the club is counting the cost of missing out on a £90m pot over four seasons for a Premiership place.
City have not featured in England's top flight since 1962.
Most of the 37,000 fans from Cardiff travelled by road, with an estimated 200 coaches booked, for the 1500 BST kick-off.
Boxing star Joe Calzaghe and Lord Kinnock were among the more famous City fans attending the game.
Another 4,000 people watched the match on a big screen in Cardiff Bay.
Before the game Cardiff City chairman Peter Ridsdale, who is due to step down next week said the club was in good shape financially, whatever the result.
"I don't think think there's any other single fixture that delivers the sort of money we're getting if we win today," he told BBC Radio Wales.
"It guarantees a minimum of £90m over four years - and I stress minimum, because that assumes to get to £90m you finish bottom of the Premiership in the first year.
"It's the most lucrative one-off game in football anywhere in the world, we're in it and it's up to us to win in.
"We've always been geared to try to survive in the Championship, nothing's changed.
"The only cataclysmic problem of losing is psychological not financial. We've reduced the debt, steadied the finances, despite what has been written about this year, and we've got new investment coming in, starting next Thursday."
Manager Dave Jones said afterwards: "There is always speculation but my heart and my mind are towards Cardiff City.
"Maybe the new board will want a change but at the moment I'm focused on going away on holiday for a few days and then starting again."
"I promise you one thing, we'll try very hard and I'll do whatever's necessary to get us up there again," he said.
Fans had faced severe delays and diversions on the return journey as a result of planned maintenance on the M4 on Saturday evening.
But work on between junctions 16 and 17 in Wiltshire has been delayed from 1900 BST to 2000 BST following a request by South Wales Police.
The closure would have meant detours for via Malmesbury for thousands of fans travelling by car.
The Highways Agency said: "We'll monitor traffic levels before deciding on when to close the road."
The spokesman added: "We have delayed the M4 closure between junctions 16 and 17 to start at 20.00 BST, but we will monitor the traffic levels, and have some flexibility to delay the time of the work if necessary. After the motorway has been closed there will be a well signed diversion in place."
He said the closure had been booked since February but they were "well aware of the play-off final and the need for Cardiff fans to safely get back to Wales".
A study by Cardiff council study in 2003 estimated that gaining entry into the Premier League would have put the club among the top 25 businesses in the capital, generate around £10m and create around 400 jobs.
Related Internet Links
The BBC is not responsible for the content of external sites.