German angst over eurozone bailout
By Oana Lungescu
BBC News, Berlin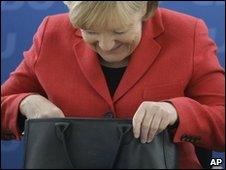 The German parliament approved the law allowing Europe's largest economy to contribute the lion's share to the 750bn euro ($938bn, £651bn) emergency package to stabilise the troubled euro.
This was a victory for German Chancellor Angela Merkel, but not as clear as she would have wanted. Thirteen members of her own centre-right coalition either voted against the law or abstained.
Among them was Frank Schaeffler, who this week stepped down as the top liberal member on the finance committee of the lower house, the Bundestag, to show his unhappiness with the government's policy.
Earlier this year, Mr Schaeffler was among those calling on Greece to offset its debt by selling some of its uninhabited islands.
The debate has fuelled concerns that the price Germany is paying for Europe is too high.
A poll for ZDF television showed that 51% of Germans opposed the package and 54 thought Chancellor Merkel was giving too little direction.
In Berlin's corridors of power, the unease is palpable.
But Germany also sees the crisis as an opportunity for the rest of Europe to follow its lead in embracing budgetary discipline.
Chancellor Merkel calls it "the culture of stability".
Thomas Silberhorn, who sits on the European affairs committee for the conservative CSU - the Bavarian sister party to Mrs Merkel's Christian Democrats - argues that for countries like Greece, this is the last chance to reform.
If they don't, the EU needs "to keep the option not to help", he says.
Mr Silberhorn favours a mechanism that would allow debt-laden countries to be declared insolvent and leave the euro club.
"A member country which cannot be helped any longer would have no other option but to go out in its own interest," Mr Silberhorn said.
But forcing or even allowing a country to leave the eurozone is hard to do and would have incalculable consequences.
What Finance Minister Wolfgang Schaeuble proposes instead is "a procedure for orderly state insolvencies... [which] will create incentives for countries to pursue solid fiscal policies".
That is the last of a nine-point plan that Mr Schaeuble took to a meeting of EU finance ministers in Brussels on Friday.
Although ministers shied away from even discussing the prospect of one of their countries going bankrupt, they broadly embraced the rest of the plan.
It centres on sanctions for those that consistently breach eurozone rules, including the suspension of EU funds and voting rights.
But the final decision will only be taken in the autumn. So there are months of haggling and uncertainty ahead.
For decades, Germany has acted as Europe's paymaster, to show its commitment to the continent's peaceful integration.
Despite continuing costs for its own reunification and the highest borrowing figure since WWII, the country last year introduced a debt brake bill setting a strict deficit limit.
There is little margin left for Germany's traditional cheque-book diplomacy.
The Interior Minister Thomas de Maiziere - who negotiated the eurozone aid package in Brussels after Mr Schaeuble was taken ill - said the EU could not turn into a "transfer union", where money flows without any clear conditions.
A close ally of Chancellor Merkel, Mr de Maiziere compared Europe to a family.
"Anyone who has raised children knows that if you give in to their demands too early, it's often more expensive than doing it later with certain conditions. That has been our experience," he said.
But he strongly rejected any accusations that Germans were turning eurosceptic.
"Our European friends have to come to terms with the fact that Germany will behave like other countries in Europe - and this is not anti-European."