Car bomb in central Iraq kills 23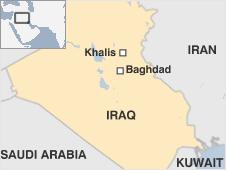 A car bomb has exploded at a market in Iraq's northern Diyala province, killing at least 23 people and wounding another 53, police say.
The blast took place in the mainly Shia town of Khalis, about 80km (50 miles) north of Baghdad, at about 1630 GMT.
Earlier this month, a spate of attacks killed more than 100 people.
The situation in the country remains tense after elections in March, with no bloc having yet assembled a majority to form a government.
It is the deadliest attack since a double bombing on 14 May, which killed 25 people and wounded 120.
The BBC's Jim Muir in Baghdad said a car containing explosives was set off in a busy market in front of a coffee shop where crowds were enjoying the evening cool.
Police lieutenant Abdul Jabar Ihmoid told Reuters many shops had been destroyed.
"The roof of the coffee shop which was full of people also collapsed. We believe there are still people under the debris," he said.
A man who was being treated for leg wounds after the bombing blamed the police.
"Policemen were securing the market like they always do, but... how did that car enter the market?" said Haitham Hussein al-Tamimi.
Police officials said an investigation was under way.
Our correspondent says such indiscriminate attacks against Shia areas have been a feature of recent violence, apparently aimed at provoking a sectarian reaction against Sunnis.
In the same province, insurgents - believed to be Sunni militants - have also carried out revenge attacks against fellow Sunnis who have turned against them, our correspondent adds.
Violence in Iraq has fallen considerably since the height of the insurgency three years ago, but the recent attacks have sparked fears that militants are regrouping.
Two months ago, the same town was hit by a double bombing in which 40 people were killed.