Zuma warns of child trafficking during World Cup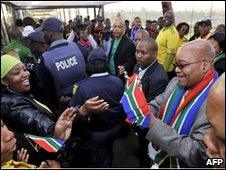 South Africa's president has issued a warning about a possible increase in child trafficking during the World Cup.
Jacob Zuma told parents to be vigilant during the tournament as opportunities for criminals would be high.
Children - who have a month off school over the period - will be vulnerable and should be properly supervised, he said.
The country has fast-tracked a children's law ahead of the event to make it easier to prosecute suspects.
"Children wandering alone in shopping malls and football stadiums will be vulnerable to people with evil intentions," Mr Zuma said.
"We will play our part as government but parents and care-givers also have to be vigilant."
The South African government is working with the United Nations children's agency Unicef during the games, which begin on 11 June.
The country's new Children's Act was rushed through parliament ahead of the tournament and is the first piece of legislation that directly deals with the problem.
It introduces strict penalties, with those found guilty facing life imprisonment or heavy fines.
Regional police coordinators and task teams will be set up to enforce the law.
On Thursday, Mr Zuma asked his countrymen to "be good" over the period, according to the South African Press Association.
"Let them, just for four weeks, be good. Just for four weeks," he said at a prayer meeting.