Defer now, pay later?
By Jim Fitzpatrick
BBC NI Politics Show presenter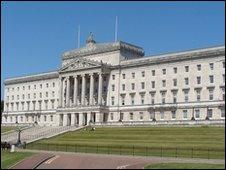 Balance transfer offers on credit cards used to be big business during the boom years.
At the height of the easy credit era you could defer payments for up to 12 months at 0% interest.
There are still a few offers around these days, but look closely at the small print and you'll see a 3% charge for any transferred balance, so the headline 0% isn't cost-free.
Of course, any deferral of payment only makes sense if you expect to be more cash-rich in 12 months' time.
During the boom, when property owners were getting richer by the day by simply sitting on their sofas, that was a fair bet. Nowadays it's not.
It's much the same for Stormont. David Cameron arrived on the hill this week with a headline-grabbing balance transfer offer, giving the Executive the option of postponing its share of the looming cuts for this year.
But everyone knows that Stormont will be worse off next year, not richer.
The £120m plus of cuts coming is but a fraction of what's likely to be slashed in the next round. And any deferral is likely to have some other costs hidden in the small print.
So, on the face of it, Stormont would be wise to avoid the PM's offer to use their flexible friend to transfer their balance into next year.
But Stormont has a history of deferring when it comes to paying nasty bills - most notably water.
The deferral of water charges is costing the Executive about £200m a year.
The finance minister has now indicated - despite earlier suggestions that charges could even be introduced half-way through a financial year - that there's not enough time to get charges in place for next year.
This conveniently puts decision day beyond the next Assembly election in May 2011.
It means Stormont will have blown £1bn paying for water out of its block budget by the time this Assembly winds up next year.
The parties argue that they've pursued the deferral policy because they believe it's the best one.
But critics - and Alliance is the only party to express concern - say the £1bn could have provided a useful cushion against the looming cuts and that the real reason the policy of deferral has been adopted is to allow the Executive to avoid taking a tough decision.
If the critics are right and Executive policy is decided by fear rather than foresight then it doesn't bode well for how devolution here will cope with the difficult times ahead.
How, for instance, will Stormont react to the possible option of a cut in business tax paid for by a cut in the block grant? A policy of upsetting no-one can also mean pleasing no-one either.
On Sunday's Politics Show, Yvette Shapiro explores where the axe might fall in public spending in Northern Ireland and in the studio I'll be asking DUP and Sinn Fein ministers if they can wield it with imagination.
PS - As Finance Minister Sammy Wilson has the task of balancing the government books in NI - a considerable responsibility. One unionist opponent was less than glowing about the former economics teacher's experience for this job when chatting at Stormont this week: "The closest Sammy's got to budget experience is counting the dinner money" Meow.
Related Internet Links
The BBC is not responsible for the content of external sites.