Champions League winners 'net 120m euros'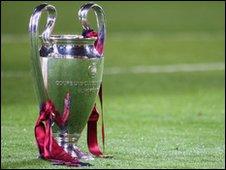 Winning the Uefa Champions League will be worth 120m euros (£104m; $151m) to the victorious club, research by the competition's sponsor suggests.
Either Bayern Munich or Inter Milan will net that sum by winning Saturday's final, according to the research by credit card firm Mastercard.
The loser will not go home empty-handed either, gaining 70m euros.
The final match alone is expected to be worth upwards of 351.5m euros to the European economy as a whole.
The host city, Madrid, is expected to benefit to the tune of 50m euros.
"The value of the 2010 Champions League final is set to break all previous records," commented Professor Simon Chadwick, who conducted the research for Mastercard.
"It's clear that football is booming, despite neither an English or Spanish club featuring in the Final for the first time in five years."
The wider European economy is expected to see a boost, due to the large sums of money fans from Germany and Italy are expected to spend getting to the final.
More money will be spent on food and drink and on replica shirts, the study said.