Dead woman's tap injury 'impossible'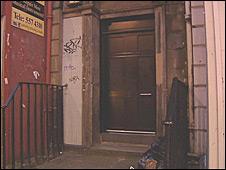 A husband's claims his wife fell and fatally hit her head on bath taps would be "very unlikely, if not impossible", a forensic pathologist has told a jury.
Final prosecution witness Dr Ralph Bouhaidar told the High Court in Perth some of the wounds on Randa Kamblawi's head were consistent with hammer blows.
Mrs Kamblawi's husband, Yahya Babiker, 45, denies murdering her at their home in Edinburgh's Nicolson Street.
He claims she slipped and hit her head on the taps twice on 20 October 2009.
The court also heard how Mr Babiker bought a claw hammer from Homebase hours before his wife's body was found.
Mr Babiker spent £3.99 on the orange-handled Value range hammer which prosecutors allege he then used to smash his wife's skull.
Dr Bouhaidar said of one of the five distinct head wounds she sustained: "The features of this wound would be consistent with being caused by a heavy, round, blunt object, such as a hammer or something with similar features.
"We did not think the taps could fall into this category. We are of the opinion the hammer is the most likely instrument in this case."
Under cross-examination by Bert Kerrigan QC, Dr Bouhaidar said: "I find it very unlikely, if not impossible, that this could have been caused by the taps."
The court was shown pictures of the head wounds sustained by the 34-year-old student and mother-of-two and was told part of her skull had been shattered into minute and small pieces.
When her body was removed from the bath, she was found to have massive injuries to her head including skull fractures and brain injuries.
Mr Bouhaidar, who is employed by NHS Lothian, said: "There were at least five blunt force injuries to the forehead and head area, with underlying severe skull fracture and severe brain fracture identified."
He said three of the five injuries could have been caused by mild to moderate force being used - but added that the two which smashed the skull must have involved "severe force".
A second charge of attempting to defeat the ends of justice was formally withdrawn by Advocate Depute Pino di Medio at the conclusion of the Crown case.
The court had heard how Mr Babiker left Edinburgh in the early hours of 20 October after leaving the couple's children with relatives. He flew to London but returned a short time later.
In a joint minute, the parties agreed that Mr Babiker's name was on a receipt for a claw hammer from the St Leonard's Street branch of Homebase at 1519 GMT on 19 October.
The trial, before Lady Stacey, continues and closing speeches will be put to the jury on Monday.
Related Internet Links
The BBC is not responsible for the content of external sites.