'Smallest' rural school to close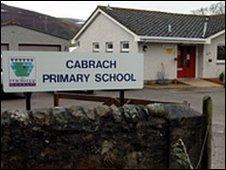 The smallest school in Moray looks set to close after its two pupils left.
A spokesman for Moray Council said the brother and sister who had attended Cabrach Primary had now enrolled at another school.
The news comes two days after parents whose children attend neighbouring Mortlach Primary School initiated a campaign to close Cabrach.
They had argued the £100,000 cost of keeping Cabrach open was diverting cash from the area's other school.
Helena Sherakovska, whose two children attended Cabrach, had argued that it was short-sighted to reduce the argument on the school's future to one of cost alone.
Her comments came in response to parents of the 146 pupils of Mortlach Primary in Dufftown, who had launched a petition aimed at having Cabrach closed.
Council officials are expected to initiate the school's closure at a meeting of the authority's policy and resources committee, due to take place next week.
Moray Council had planned to close the school in 2008, however the proposal was rejected by the Scottish government.
Related Internet Links
The BBC is not responsible for the content of external sites.