World Cup 2010: Are you watching?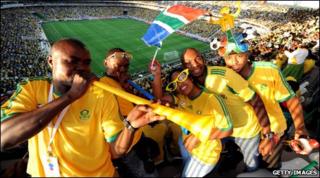 The 2010 World Cup is building to a Crescendo in South Africa. Who have you been supporting?
The one-month long competition is the biggest sporting event ever to be hosted on African soil.
South Africa is the first host country to be knocked out of the World Cup in the first round, but fans say they were now confident that the standard of football here would improve because the World Cup had been played in Africa.
Share your stories on our World Cup map. Have you been watching the World Cup? Is your team still in the competitino? If not, who are you supporting now?
Are you planning a World Cup party?
Send us your stories and some information about yourself using the form below.
You can send us your World Cup pictures to yourpics@bbc.co.uk, text them to +44 7725 100 100 or if you have a large file you can click here to upload.
Click here to see terms and conditions
Thank you for your comments