Early retirement call to create teacher jobs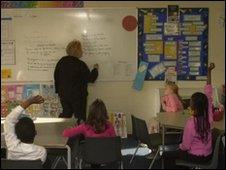 Teachers' leaders have called on the Scottish government to pay for early retirement schemes to free up posts for new teachers.
Just one in seven of those who qualified last summer have a full-time permanent job.
The call, from the NASUWT union in Scotland, is likely to be endorsed at its annual conference in Edinburgh.
The Scottish government said it was committed to helping more newly qualified teachers into work.
A spokesman said: "We have already put in place a scheme to help local authorities offer early retirement opportunities, through a facility to allow them to borrow up to £10m to cover the upfront costs of early retirement and free up jobs for new teachers.
"We have also asked local authorities to reduce the use of retired teachers in supply work, to give new teachers more employment opportunities."
Related Internet Links
The BBC is not responsible for the content of external sites.