Young shun art of letter writing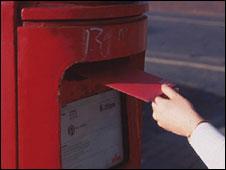 Nearly half of primary school pupils questioned for a survey said they were not sure how to set out a letter.
And one in four of the seven to 14-year-olds polled had not tried to write one in the past year.
But in the past week alone, over half had written an e-mail or message on a social networking site, the poll of 1,188 UK primary school children found.
Child education expert Sue Palmer said children who did not write or receive letters were missing out.
She added: "Handwritten letters are much more personal than electronic communication.
"By going to the trouble of physically committing words to paper, the writer shows their investment of time and effort in a relationship.
"That's why we tend to hang on to personal letters as keepsakes."
But many children simply are not receiving or writing letters. The poll suggested one in five had never received a letter.
And letter-writing seems to become less frequent as children get older, the survey suggests.
Researchers found 8% of 14-year-olds questioned had written a letter in the past week compared with 28% of seven-year-olds.
Some 45% of 11-year-olds questioned said they either did not know or were not sure how to set out a letter.
Ms Palmer said: "The effort of writing is a very real one for a child.
"Painstakingly manoeuvring the pencil across the page, thinking of the best words to convey a message, struggling with spelling and punctuation.
"It is, however, an effort worth making, because it's only through practice that we become truly literate - and literacy is the hallmark of human civilisation."
The poll was conducted by YouGov online in April for the charity World Vision to mark National Letter Writing Day.
Letter writing is a key part of World Vision's child sponsorship campaign, which connects UK families with children and communities in the developing world.
Related Internet Links
The BBC is not responsible for the content of external sites.