Grandmother to give evidence on family heirloom pistol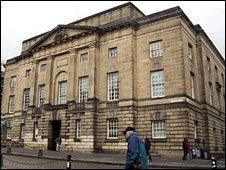 A Dundee grandmother facing five years in jail for possessing a "family heirloom" pistol has been told she has to give evidence in court.
Gail Cochrane, 53, kept the 1920s gun for 28 years following the death of her father, who had been in the Navy.
But police found the weapon, described as a "trophy of war", when they were looking for her son last year.
Cochrane previously admitted illegal possession of the gun at the High Court in Edinburgh.
The offence carries a minimum sentence of five years imprisonment without "exceptional" circumstances.
The grandmother-of-six has pled guilty to having the 7.65mm Browning self-loading pistol at her home on Morgan Street, Dundee, without a firearms certificate and possessing the weapon without the authority of the Secretary of State or Scottish Ministers.
Her solicitor advocate Jack Brown told the court that there were "extremely unusual circumstances".
Judge Lady Smith told Cochrane, who was in court for sentencing, that an evidential hearing was required.
She said: "You will have to give evidence about the whole circumstances in which you came into possession of this handgun and the circumstances in which it was discovered.
"The circumstances in which it was discovered were unusual and give rise to questions, to say the least, namely the gun was hidden underneath the mattress."
Advocate Leanne Cross previously told the High Court in Edinburgh police found the pistol when they searched Cochrane's home on 17 June 2009 while looking for her son, who had failed to turn up for a court appearance.
The weapon was sent for examination by firearms experts who concluded that it was a Czech-made pistol dating back to about 1927.
The defence advocate said Cochrane acknowledged it was a very serious offences but added there were "extremely unusual circumstances".
Mr Brown said a firearms expert who looked at the gun had described it as "a trophy of war", which reflected the circumstances of how it came to be in her possession.
Related Internet Links
The BBC is not responsible for the content of external sites.