Cat reported for frightening dog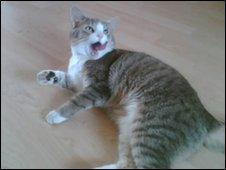 A pet owner has been reported to the Scottish SPCA after her cat reportedly attacked a dog.
Angela Blanchard, from Cruden Bay, said she was shocked by a visit from welfare officers after her cat Rosie attacked the dog in a school playground.
Mrs Blanchard admitted four-year-old Rosie did not like dogs but said she was bemused the incident had been reported to the authorities.
The SSPCA has told Mrs Blanchard to monitor Rosie's behaviour.
Mrs Blanchard described Rosie as "laid back" but acknowledged she had had "confrontations" with dogs before.
She said: "She's not aggressive."
Mrs Blanchard said Rosie was fond of spending time in a neighbouring school playground, being petted by pupils and had come to view the area as "her territory".
However, on Wednesday, she reportedly attacked a dog that had wandered into the grounds.
Mrs Blanchard said: "Apparently when she attacked the dog, they had to report it.
"The SSPCA asked me if she had been neutered because that's the best way to calm her down but I told them she had."
She added: "What really surprised me is that someone contacted the SSPCA."
The Scottish SPCA confirmed that it had received a call to its animal helpline about Rosie's behaviour and had spoken to her owner.
Related Internet Links
The BBC is not responsible for the content of external sites.