Germans approve euro rescue plan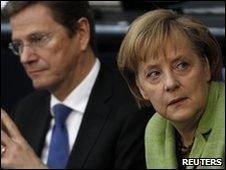 Germany's parliament has approved the country's contribution to a 750bn euro ($938bn, £651bn) rescue deal for the eurozone.
The German contribution is key to the plan, and would amount to up to 148bn euros.
Chancellor Angela Merkel has faced widespread domestic opposition to her support for measures to help Greece and other struggling EU economies.
But she has warned that the euro would be "in danger" without strong action.
The Bundestag, or German lower house, voted by 319 votes to 73 in favour of Germany's participation in the bail-out, with 195 abstentions.
Two opposition parties - the Social Democrats and the Greens - abstained, while the Left Party voted against. The upper house then gave its approval.
Mrs Merkel hailed the vote as a clear signal that the German government backed a stable eurozone.
"It is a very important day for the German parliament today... and I am happy that we managed to get a package for stabilising the euro," she said at a joint news conference with the visiting British Prime Minister, David Cameron.
"It is very important that the factions of the government show a very clear sign what to do with regard to stabilisation," Mrs Merkel said.
But the BBC's Steve Rosenberg in Berlin says it was hardly a convincing victory for Mrs Merkel, who has come under attack at home and abroad for her handling of the financial crisis.
Without cross-party support the German leader will struggle to secure public backing for bailing out Germany's neighbours, he says.
Bail-out plans for Greece are already thought to have contributed to a defeat for her centre-right coalition in a key state election in North Rhine-Westphalia (NRW) earlier this month.
The vote on the package, which is designed to shore up the finances of struggling eurozone countries, came as an EU task force of finance ministers met in Brussels to discuss ways to prevent a repeat of the economic crisis in Greece.
EU Council President Herman Van Rompuy said the task force had agreed to move forward on key priorities.
They include implementing greater budgetary discipline, creating an effective crisis management mechanism, and the need to strengthen economic governance across the eurozone.
European markets fell after opening on Friday amid fears that the region's debt crisis could spread.
In Berlin German Foreign Minister Guido Westerwelle told members of parliament that the vote was about "whether you think that Europe should stand or whether it should fall".
Finance Minister Wolfgang Schaeuble said that without the euro, "we would have a much weaker economy, a much weaker Germany and a much weaker social security system".
But opposition politician Thomas Oppermann questioned the government's priorities.
"It is noticeable that we move at different speeds depending on whether it's about saving banks or calming nervous financial markets, or whether it's about defending citizens against these financial markets by regulating," he said.
As Mrs Merkel tried to gather support for Germany's contribution to the European bail-out fund earlier this week, German regulators announced a unilateral ban on some types of short-selling.
The ban covers "naked" short-selling, which occurs when a trader sells a financial instrument that has not yet been borrowed.
The restrictions also cover the use of credit derivatives to bet on a fall in the value of the debt of a eurozone government.
Germany angered other EU nations by acting alone on the ban, which triggered a fall in stock markets and the euro.
Mrs Merkel has also called for tougher regulation of banks and financial markets ahead of next month's G20 summit in Canada.
The eurozone's leading economies, Germany and France, have been divided over how to deal with the debt crisis, though French President Nicolas Sarkozy said on Thursday he had "no disagreements" with Mrs Merkel.
However, during the debate ahead of Friday's vote in the Bundestag, senior German Social Democrat Sigmar Gabriel accused Mrs Merkel of hurting the relationship between the two countries.
"Madam chancellor, not since Konrad Adenauer has a German chancellor been so humiliated in Europe," he said, referring to West Germany's first post-war chancellor.
"No-one has ever damaged the Franco-German axis as much as you have over the past month."
Comments from other countries