Renault urged to scrap car name Zoe
By Zoe Murphy
BBC News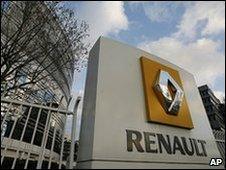 French carmaker Renault is facing a backlash over plans to christen a new model Zoe.
Parisian Zoe Renault, 23, has hired lawyers to insist that Renault scrap its branding.
"I could not bear to hear: 'Zoe's broken down' or 'We need to get Zoe overhauled'," she told Le Parisien newspaper.
Renault is facing other petitions from women called Zoe. A Renault spokesman said Zoe was not a "definitive choice".
The all-electric Renault Zoe ZE (zero emission) is set for launch in 2012. Zoe - which means "life" in Greek - was apparently chosen to underline the car's environmental credentials.
Zoe Renault - who has no apparent family link to the company - said in an interview with Le Parisien that she could not bear to be associated with a car for the rest of her life, and all the inevitable sarcastic gibes.
Her lawyer David Koubbi, who specialises in the protection of first names and is representing other Zoes, said he had sent a letter to Renault's chief executive arguing that the plans were an attack on the rights of his clients.
If the company does not change its plans, Mr Koubbi said he would take the case to court.
A spokeman for Renault told the newspaper that naming cars after women was nothing new, but said that Zoe was the name of a concept car and was not a definitive choice.
Zoe is an increasingly fashionable name in France, and was ranked the sixth most popular girls name in 2009, according to a list compiled by prenom.com.
Related Internet Links
The BBC is not responsible for the content of external sites.