Banff primary gets first autism award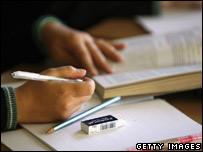 A primary in Aberdeenshire is to become the first mainstream school in Scotland to receive accreditation from the National Autistic Society.
Banff Primary School was rewarded for its specialised knowledge and understanding of autism, after a team of professionals presented their review findings to an independent panel.
The school began working towards gaining accreditation in 2005.
It must now undergo further reviews every three years to retain its status.
Stephen Pyott from the National Autistic Society will officially present the school with its accreditation.
Head teacher Jenny Stone said: "The benefits for the school having worked rigorously through this process are many; there has been a strong element of continuing professional development that has impacted positively on every member of staff in school.
"Practice has been positively developed and enhanced across the school and this has been endorsed by the rigorous nature of the accreditation process and the very favourable outcome of the report.
"This has been a powerful learning experience for all of us in school. We are conscious that our professionalism has been enhanced and we are better equipped to meet the needs of our pupils."
Councillor Richard Stroud, chairman of Aberdeenshire Council's education, learning and leisure committee, said: "This is a wonderful accomplishment for the school, the staff and the pupils.
"It is vital that every pupil, no matter what their circumstances are, gets the best possible support and education and Banff Primary is now in an excellent position to achieve this."
Related Internet Links
The BBC is not responsible for the content of external sites.