Naomi Campbell may be subpoenaed by war crimes court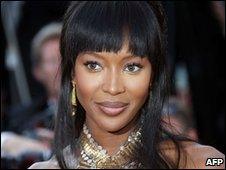 War crimes prosecutors in The Hague say supermodel Naomi Campbell should be subpoenaed to testify at the trial of Liberia's ex-President Charles Taylor.
They say Ms Campbell "was given rough diamonds" by Mr Taylor in 1997 at Nelson Mandela's house in South Africa.
Mr Taylor is accused of using "blood diamonds" to fuel an insurgency in Sierra Leone that cost tens of thousands of lives.
Ms Campbell had previously declined to provide testimony to prosecutors.
Ms Campbell's testimony is necessary as there is evidence that Ms Campbell was given rough diamonds by the accused (Mr Taylor) in September 1997," said a prosecution motion filed with the Special Court for Sierra Leone.
Mr Taylor is accused of selling diamonds and buying weapons for Sierra Leone's Revolutionary United Front (RUF) rebels, who were notorious for hacking off the hands and legs of civilians during the brutal 1991-2001 civil war.
The trial heard claims in January that he had given Ms Campbell a "large" diamond after a 1997 dinner hosted by South African ex-President Nelson Mandela.
The former Liberian leader, who has been on trial since January 2008, dismissed the claims, calling them "total nonsense".
He has pleaded not guilty to 11 counts of war crimes and crimes against humanity stemming from the 10-year war in Sierra Leone.
Earlier this month, Ms Campbell deflected a question about the diamond during an appearance on the Oprah Winfrey Show.
When asked about the gift, she said: "I don't want to be involved in this man's case. He has done some terrible things, and I don't want to put my family in danger."
The prosecution also wants US actress Mia Farrow - another guest at the Mandela dinner - to testify about the alleged gift.
According to Ms Farrow, Ms Campbell told her about the gift the following morning.
Ms Campbell said she had been visited by representatives of Mr Taylor during the night, and that they had given her a "huge" uncut diamond, Ms Farrow told ABC News last month.
"You don't forget when a girlfriend tells you she was given a huge diamond in the middle of the night," Ms Farrow told ABC.
She has told the court that she is willing to testify if needed.
Related Internet Links
The BBC is not responsible for the content of external sites.