Bloody Sunday families say report due 'within weeks'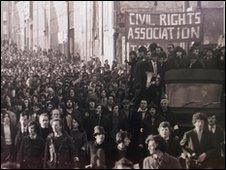 The Bloody Sunday families have said they have received assurances from the prime minister and secretary of state that the Saville Report will be published within weeks.
The relatives of those killed and wounded have been critical of delays in releasing the report.
Relatives Mickey McKinney and John Kelly met with Owen Paterson and Deputy First Minister Martin McGuinness on Wednesday.
Both men said the meeting was positive.
Thirteen people died after paratroopers opened fire during a civil rights march in Londonderry on 30 January 1972.
Mr McKinney, whose brother William died on Bloody Sunday, said Mr Paterson "indicated that we should have the report within a matter of weeks".
"Bearing in mind there are still some mechanics and logistics to be ironed out before he can commit to an exact date," he said.
"We feel reassured by this latest meeting. It seems there will be no more delays as such - the report is ready and waiting - it's just a question of printing."
John Kelly, who lost his brother Michael, said he received similar reassurances from David Cameron via Martin McGuinness.
"Martin McGuinness has informed us that he raised the issue of the Saville Report with David Cameron, relaying the importance of a speedy release," said Mr Kelly.
"David Cameron's reply was, according to Mr McGuinness, very forthright in that he said he wants the report published 'within weeks and not weeks running into months'.
"We, the families, now expect that to happen. No more delays and no more excuses."
SDLP leader Margaret Ritchie and Foyle MP Mark Durkan also raised the issue of the publication of the Saville Report when they met with the secretary of state at Westminster earlier this week.
The Saville Inquiry into the events of Bloody Sunday closed in 2004 with the report initially due for publication the following year.