Call of the Wild: Backpacking in Lomond national park
By Christopher Sleight
Tayside & Central reporter, BBC News website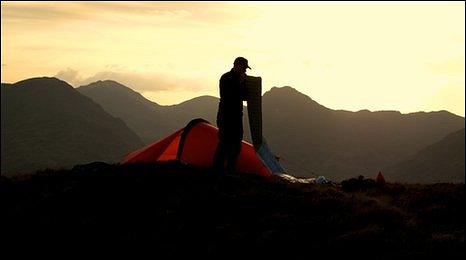 It's late evening and the sun has just dipped behind Ben Vorlich and Ben Vane - two steep, looming hills the other side of Loch Lomond.
We're camped in the small, rough hills a few miles north of Scotland's most southerly Munro, Ben Lomond.
A new moon and the first stars have appeared and in the last few minutes the temperature has tumbled.
The only sounds are the hissing of gas stoves and the occasional flap of a tent in the breeze.
Sat looking across at the Arrochar Alps, we quietly enjoy the sunset and a late dinner - well, everyone apart from one of our number whose mash and meatballs meal didn't work out as planned.
Among us is Peter MacFarlane, known as Petesy, an outdoors writer who has been wandering these hills for 30 years or more.
Petesy says it is moments like this that inspire him again and again to seek out the wilder - and less-frequented - parts of Scotland.
He says: "It's complete joy. That's the only way of describing it. It's a freedom that's hard to get in modern life - we're all so busy now.
"You look outside the tent and you don't see a single light, just mountains rolling into the distance."
He points out that you don't need to journey for days to reach wild spots like this, or travel to inaccessible corners of the globe.
"Doing something like this, it's not a big investment in your time. We left quite late in the day today and we managed to get up somewhere high and we'll be back tomorrow to our lives," he says.
"It's accessible freedom."
Next year, camping is likely to be banned in certain parts of Loch Lomond and the Trossachs National Park in a drive to tackle anti-social behaviour.
The park authority has said it wants to stop repeated use of the same sites by a minority who are damaging trees, littering and lighting fires.
The ban on informal camping will apply to specific areas of Loch Lomond's east coast.
But many mountaineers and backpackers such as Petesy feel the impending ban on camping near popular spots such as Balmaha and Rowardennan will have little impact on them.
For them, the actions of those who pitch tents just yards from their cars, chop down trees and leave rubbish and fire scars has little to do with wild camping.
And the national park itself is keen to stress that they do not want people to think the park is closed to campers.
Another member of our group is Grant Moir, director of conservation at the national park.
He tells me: "The idea is not to try to stop people wild camping. If somebody wants to get a pack on their back and head up Ben Lomond or any of the wilds around there, that's absolutely fine.
"It's that informal camping involved with alcohol and cars that we're trying to get away from. We absolutely want people to come into the national park."
The problems faced by the park on Loch Lomondside starkly contrast to Petesy's approach to wild camping, which is low-profile - stealthy even.
He prefers to stay away from the crowds and leave no trace of his presence.
His pack looks like he is out for the day and his sleeping bag and tent pack down to tiny packages. Though Petesy does tell me he usually fills up the extra space with donuts and pastries. (To prove it, he produces two bags of goodies after dinner).
But most of all, he wants to find those rarely-visited, trackless pockets of land that are all over Scotland, even close to major cities.
"I prefer remote because you're not seeing houses, you're not seeing the signs of habitation.
"There's a feeling that you're out on your own. It's important that you're not annoying anyone else and the presence of others isn't encroaching on your enjoyment," he says.
"And no-one will ever know we were here."
Related Internet Links
The BBC is not responsible for the content of external sites.