Kyrgyzstan ethnic clashes kill two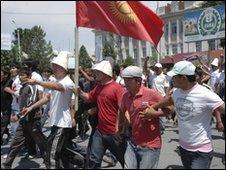 The interim government of Kyrgyzstan has declared a state of emergency in the southern city of Jalalabad after two people died in clashes.
Shots were fired as police tried to stop ethnic Kyrgyz protesters from storming an Uzbek university.
The clashes followed violence last week between supporters of the interim authorities and backers of ousted President Kurmanbek Bakiyev.
He was overthrown last month in deadly protests in the capital Bishkek.
Mr Bakiyev fled with his family to Belarus after the 7 April clashes between government forces and protesters that left at least 85 people dead.
The interim government said the state of emergency would be in place in Jalalabad until 1 June.
It includes a curfew from 2000-0600 (1400-0000 GMT).
The government also declared that its leader, Roza Otunbayeva, would be president until the end of next year, despite an announcement last month that there would be presidential elections this October.
The move must be approved in a referendum to be held next month, when the draft of a new constitution will also be voted on.
The violence in Jalabad broke out after a large group of Kyrgyz protesters gathered outside an Uzbek-funded university to demand the arrest of a local Uzbek leader, Kadyrjan Batyrov.
Gunfire broke out as protesters approached the building, reports said, but it is not clear who fired the shots.
Later, groups of Uzbeks and Kyrgyz armed with sticks and clubs were said to be gathering near the central square in Jalalabad.
The head of the interim government, Roza Otunbayeva, said: "We condemn all attempts to foment violence and sow the seeds of political discord among our people, especially between Uzbeks and Kyrgyz."
Her government later blamed "pro-Bakiyev forces" for instigating the clashes.
There has been hostility between Kyrgyz and Uzbeks before in southern Kyrgyzstan. Several hundred people were killed in 1990 as the Soviet Union broke up.