US prices fall for the first time in 13 months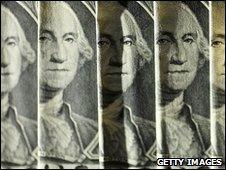 US prices fell for the first time in 13 months in April, driven by lower petrol costs, official data has shown.
Consumer price index inflation fell 0.1% last month from March, said the Labor Department, surprising analysts who had expected a 0.1% increase.
On an annual basis, inflation in April rose by 0.9%, the lowest growth rate since 1966.
Analysts said the figures meant the US Federal Reserve would be in no rush to raise US interest rates.
This was confirmed by the release of the Fed's minutes for its last meeting, in April, which indicated the central bank does not see inflation as a near-term risk.
The minutes showed the Fed was unlikely to start tightening monetary policy in the near future, with inflation in fact beginning to look a bit too low.
"Most members projected that economic slack would continue to be quite elevated for some time, with inflation remaining below rates that would be consistent in the longer run with the Federal Reserve's dual objectives," the minutes said, referring to the Fed's dual mandate of maximum sustainable employment and price stability.
Meanwhile, Fed officials said they thought the US economy could grow between 3.2% and 3.7% this year, up from a previous estimate of a growth range of 2.8% to 3.5%.
The inflation figures released on Wednesday showed that core inflation - which strips out the impact of volatile energy and food bills - showed prices remained unchanged in April for the second consecutive month.
Petrol prices declined by 2.4%, clothing costs fell 0.7% and food costs rose 0.2%.
US interest rates are currently at between 0% and 0.25%, where they have been since December 2008 to aid the US economic recovery.
The most recent official figures showed that the US economy grew at an annualised rate of 3.2% in the first three months of 2010, but at the same time unemployment remains stubbornly high.
The jobless rate increased to 9.9% in April, up from 9.7% in March, and the total number of people unemployed in April was 15.3 million.
"With the unemployment rate so close to 10%, it is entirely understandable that the Fed wants to stick with its commitment to leave rates at near-zero," said Paul Ashworth, senior US economist at Capital Economics.
He added that his opinion was that the Fed would not start raising interest rates until next year, and that it was possible the first increase would not come until 2012.
Related Internet Links
The BBC is not responsible for the content of external sites.