Willetts 'will argue for science'
By Jonathan Amos
Science correspondent, BBC News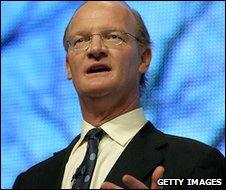 David Willetts says he will argue the case for science but researchers have to recognise that getting the public finances under control is the priority for the UK's government.
The new science minister made his comments in an introductory briefing for London science reporters.
He acknowledged that there would be anxiety in the research community about future funding prospects.
But he said the nation's debt was crippling and had to be tackled.
"I understand the value of science but in return scientists will, I'm sure, understand there is quite literally a cash constraint on what British governments can afford," he told the journalists.
"We cannot sustain for very long the position where for every four pounds the British government spends, one pound is borrowed. That is not a viable model for financing any public services."
The new Conservative-Lib Dem coalition has announced that it will be looking to cut £6bn from the public deficit in its first year in office. More details of where the axe will fall will be announced in an "emergency budget" on 23 June and in a Comprehensive Spending Review in the autumn.
Only health and international aid will be ring-fenced.
Mr Willetts said he had already argued the merits of science funding in government but warned that ill-managed public finances were the greatest threat to research in the long term.
"Scientists understand above all the importance of evidence," he said. "The evidence is Britain has a particularly severe fiscal problem and that's why it's not possible to exempt science from the kind of scrutiny which is just beginning around Whitehall."
Mr Willetts spoke of the excitement of his new role, and promised to be a listener. He explained he would take advice, also, from previous science ministers such as Ian Taylor, Lord Waldegrave, and the long-serving Labour science minister Lord Sainsbury, who he said he "greatly admired".
"I of course make no claims to be a scientist," he told reporters. "But I do find the scientific enterprise one of the most intellectually exciting things happening in the contemporary world."
And he added: "I do understand the crucial importance of 'blue skies' research. Scientific activity cannot all be reduced to utilitarian calculation.
"Nevertheless, there is a recognition by the scientific community that when we are talking about the expenditure of large amounts of public money, there are legitimate arguments about economic value, economic output, [and the] contribution of science to economic growth.
"One of the challenges that I face is how to ensure protection for blue skies research whilst at the same time helping to support the funding of science, partly by drawing on the arguments about its economic value."
Mr Willetts played predominantly a "straight bat" on those issues that had caused some controversy in recent years, such as the role of scientific advisers within government and research on hybrid embryos.
He did, however, make an enthusiastic endorsement of British activity in space. "I do think we've got something there that's incredibly important, and one of the conversations I've had is about ways - including non financial - in which we can make more of this success."
He described the recent establishment of an executive space agency as an "excellent idea" but said the effort to bring all the money from various government departments and research councils into a single space budget had fallen short.
"I have not arrived in Whitehall to discover all these departments have signed in blood to a deal to have a genuinely coherent, single funding pot for space," he told BBC News.
"I will do my best to address this. Having a British space agency is a great advance, but the crucial challenge of having the financial underpinnings does not seem to have been resolved by the previous government."
Related Internet Links
The BBC is not responsible for the content of external sites.