Foxconn calls on monks and counsellors to stem suicides
By Cindy Sui
BBC News, Taipei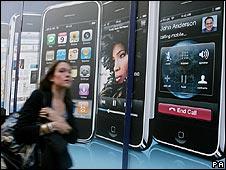 Foxconn, the Taiwanese maker of the Apple iPhone, has hired counsellors and brought in Buddhist monks for its workers after a spate of suicides.
This year, seven employees have killed themselves and two have tried.
The deaths, at Foxconn's manufacturing campus in Shenzhen, southern China, have raised concerns about worker treatment.
Foxconn is part of Hon Hai Precision, the world's largest maker of consumer electronics.
It is also one of the biggest overseas employers in China.
The company was taking the issue very seriously, even though local government investigations had not blamed the deaths on working conditions, company spokesman Edmund Ding told the BBC.
Some of the young workers had been having personal problems, he said.
To prevent further suicides, the Fortune 500 company has hired 100 counsellors and invited monks to help workers at the new Employee Care Centre and trained its medical staff to provide emotional support.
It has also introduced a reward system for employees who spot colleagues with emotional problems.
Hotlines have also been set up for workers, many of whom come from the countryside and are away from their families. The company will also provide more recreational activities such as films, talent shows and sport.
There are no plans to change working hours. Mr Ding said Foxconn's factories followed the same work patterns as other major manufacturers in China.
The average working day is eight hours and workers are allowed to do up to 80 hours of overtime a month, but they must take one day off a week.
Mr Ding pointed out that the company employed more than 400,000 people in Shenzhen, and in a workforce of that size, some people were bound to attempt suicide.
The company employs 800,000 workers worldwide, mostly in China.
Last year, a Foxconn employee in charge of shipping Apple's iPhone prototype units also committed suicide after one of the units went missing.
Apple has investigated accusations of bad employment practices by Foxconn stemming from a June 2006 complaint, and found the claims to be largely unfounded.
However, it concluded that some employees were working more than Foxconn's mandated maximum during peak production times, and as many as a quarter of them were not taking at least one day off a week.
Related Internet Links
The BBC is not responsible for the content of external sites.