Crew 'seizes back' ship from Somali pirates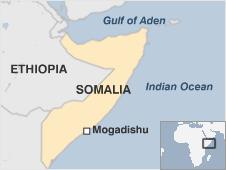 The crew of a Libyan-owned merchant ship seized by Somali pirates in the Gulf of Aden have reportedly recaptured the vessel.
Some pirates are believed to have been killed during the incident, said the European anti-piracy naval force operating off the coast of Somalia.
One of the crew on the merchant vessel MV Rim was seriously injured, said the EU force, Navfor.
Meanwhile, another vessel has been hijacked in the Gulf of Aden.
Pirates seized the 15,000-tonne Panama-flagged ship, MV QSM Dubai, in the Gulf of Aden in the early hours of Wednesday.
The vessel has a crew of 24 made up of Ghanaian, Egyptian, Pakistani and Bangladeshi nationals.
An American warship reported seeing at least one pirate on board the hijacked vessel armed with a rocket-propelled grenade.
An EU warship - the SPS Victoria - had been sent to the Gulf of Aden to give medical assistance to crew members of the MV Rim, said a Navfor statement.
It said there had been "confusing reports" that the ship had been reboarded by pirates. But once a helicopter from the warship reached the scene of the incident, it was "quickly established that the crew were in control of the vessel".
"There were, however, pirates in the vicinity who were attempting to impede the EU operation," added the statement.
The MV Rim - which has a mainly Syrian crew of 10 - was hijacked in February by pirates who demanded $3m in ransom for their safe return.
After it was captured, correspondents say that the pirates took the vessel to an area off the town of Laasgoray, on the border between Somalia's breakaway regions of Somaliland and Puntland.
The crew turned the tables on their captors as the ship was south-east of Garacad, off Somalia's northern coastline, Navfor said.
A separate EU statement said the hijacking of the MV QSM Dubai had been confirmed by a maritime patrol aircraft.
The ship had been hijacked in the "internationally recommended transit corridor" in the gulf, added the statement.
Somali pirates have become a hazard for shipping in the region, with vessels mostly held for ransom payments - which are often paid.
Figures released by the International Maritime Bureau (IMB) show that pirate attacks around the world fell by 34% in the first quarter of 2010 compared to a year ago - because of the continued presence of foreign navies in the Gulf of Aden.
The IMB logged a total of 67 incidents from January to March 2010 compared to 102 incidents in the first three months of 2009.
Nearly 20,000 ships pass through the Gulf of Aden each year, heading to and from the Suez Canal.
Related Internet Links
The BBC is not responsible for the content of external sites.