Man Group buys fellow hedge fund GLG Partners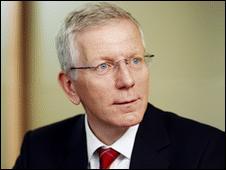 Man Group, the world's largest listed hedge fund, has agreed a deal to buy its rival, GLG Partners.
The move, which values GLG at $1.6bn (£1.1bn) will create a business with assets worth $63bn.
Man Group said the move would allow it to streamline business costs and save it $50m a year.
The company also said the two businesses were complementary because they used different investment strategies.
But the company's shares fell sharply on news of the deal.
Man shares were down 8.8% at 202p amid some concerns over the price being paid, which is 55% higher than GLG's price at Friday's close.
Sarah Ing, of Singer Capital Markets, said: "It does seem to be a fairly full price. When you buy a people business... what you do with it afterwards is what counts."
Man chief executive Peter Clarke said: "The fit between the two businesses is excellent; across investment strategies, geography and investor base."
Man Group uses "quantitative" investment strategy, meaning it uses highly technical mathematical techniques to analyse investments.
GLG uses what is known as a "discretionary" style. Man Group says that essentially means that GLG has share-based investments, which are not currently part of Man's own offer.
But both forms of approach fall under the category of Alternative Investment Managers, which include hedge funds, and both may soon face tighter regulation of their activities.
Later on Monday, the European parliament's economics committee will vote on whether to introduce new legislation, then EU finance ministers will discuss it on Tuesday.
Peter Clarke told the BBC the threat of legislation had not forced his company's hand: "It [the deal] was not prompted by it."
But he said it would give the business "real scale onshore in Europe", adding that any new rules would be a barrier to entry to those not already dealing within the European Union.
Related Internet Links
The BBC is not responsible for the content of external sites.