Mel B and Eddie Murphy attend Shrek US premiere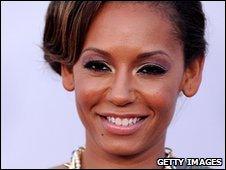 Former Spice Girl Mel Brown has shown her support for ex-partner Eddie Murphy by attending the US premiere of his latest film.
The couple split a few months before the birth of their daughter, Angel Iris, in 2007 - leading to a public paternity spat.
But Brown arrived with the star to attend the screening of Shrek Forever After in Los Angeles on Sunday.
It is the final film in the animated series about the loveable green ogre.
It also stars Mike Myers, Cameron Diaz and Antonio Banderas.
Murphy, who lends his voice to Donkey, arrived on the green carpet with his family, joking "It's crowded in the limo!".
Brown kept a low-profile and ignored waiting reporters, preferring instead to hug and chat with members of Murphy's family.
Their child was born in April 2007, but Murphy did not publicly acknowledge he was her father until four months later.
He released a statement through his publicist saying he would "honour his responsibilities as a father" a day after Brown took legal action to establish him as a parent.
The films have made more than $2bn (£1.3bn) worldwide since 2001.
Shrek Forever After sees Shrek duped into signing a contract and transported to an alternate version of Far Far Away.
Myers and Diaz were also at the screening and said they were emotional about the movie being the ogre's last outing.
"We're getting sadder and sadder as we go down the carpet, truthfully," said Myers, who plays Shrek.
Diaz added: "I am sad it's the end."
Related Internet Links
The BBC is not responsible for the content of external sites.