'Legal threat' over Winnie film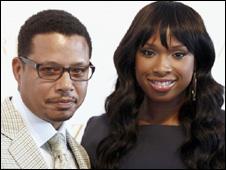 Production on Jennifer Hudson's film biography of Winnie Madikizela-Mandela is to start despite threats of legal action, the film's producer has said.
Speaking at the Cannes Film Festival, Andre Pieterse said lawyers for the ex-wife of former South African President Nelson Mandela had written to him.
He said the letter "contained the threat" of action that could stop production.
The film, titled Winnie, also stars Terrence Howard as Nelson Mandela.
Pieterse said the letter also stated that Ms Madikizela-Mandela "would like to see the script and approve".
But Pieterse said he and director Darrell Roodt had decided the film would be based on a "well researched" screenplay "without any influence from any of the main characters".
"A lawyer's letter came some weeks ago," Pieterse said.
"It was a benign letter and yet it contained the threat of an indictment, an interdict that could stop the picture."
He added: "If the film maligns her in any way then there will be a legal basis for her to take action."
Production on Winnie is due to begin in South Africa on 31 May and last 10 weeks.
Ms Madikizela-Mandela rose to prominence during South Africa's apartheid era, when she led the African National Congress (ANC) and tirelessly campaigned for the release of her husband, who spent 27 years in jail.
Their marriage ended a few years after his 1990 release.
In 1991, Ms Madikizela-Mandela was sentenced to six years in jail for her role in a kidnapping case. The sentence was reduced to a fine on appeal, but she was later convicted of fraud and theft charges.
Roodt downplayed those elements of Ms Madikizela-Mandela's biography, and called the Mandelas' relationship "an amazing love story about what one woman will do for her man".
"It's not a rose-tinted picture by any stretch of the imagination. However, we contextualize that so you understand where that comes from," he said.
Hudson, who won an Oscar in 2007 for her role in Dreamgirls, said she was "still learning" about Ms Madikizela-Mandela before tackling the role.
"It's not small shoes to fill, it's a big deal. And it's something that I'm extremely excited about."
Related Internet Links
The BBC is not responsible for the content of external sites.