World Cup winners 'most likely to be poor nations'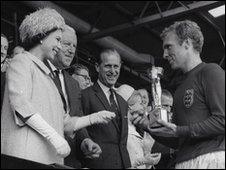 Wealth comes second to location and tradition when winning the World Cup, according to a report by Pricewaterhousecoopers (PWC).
The consultancy firm has been studying the results of the past 80 years.
It concludes that richer countries do not generally outperform the poorer nations in football.
It says that while Brazil are the statistical favourites at this year's tournament, England would do well to get beyond the quarter-finals.
That is despite the marked difference in the two countries' wealth.
Gross domestic product per head is some $10,000 (£6,900) in Brazil, almost four times lower than it is for the UK as a whole.
The PWC paper, called "What can econometrics tell us about World Cup performance?", points out that relatively low-income countries from Latin America have often matched or beaten their more affluent European rivals.
So, in world football terms at least, having plenty of money does not translate into plenty of goals.
John Hawksworth, head of macroeconomics at PWC, said: "This may reflect that fact that basic footballing skills can be honed as easily in the back streets as in an expensive sports centre."
And having lots of people does not have a great deal of impact either.
PWC says population size does have some effect on World Cup performance, but it is not that statistically significant.
It points to Argentina, which has sometimes matched Brazil despite only having a fifth of its population.
It also highlights teams from such relatively small countries as Uruguay, Sweden and Croatia, who have often also performed better than countries with larger numbers of players to call on.
One factor that does appear to boost a country's chances is holding the tournament at home.
Playing on home ground has given host nations six wins out of 18 contests and even when they did not win, the home countries have generally had strong campaigns.
England and France only won the World Cup when playing on home soil, while Latin American teams have won all of the World Cups held in the Americas.
On that basis, PWC says Cameroon and Nigeria should do relatively well this year, and the host nation, South Africa, should do much better than its Fifaranking of 90th suggests.
Mr Hawksworth said tradition and emotion were also strong positive factors: "David can often beat Goliath on the football field. Those countries with a culture steeped in football and a passionate national following can out-play the powerhouses of the world economy."
Perhaps the US is the best example of the PWC theory. The richest and most populous nation in the developed world has - so far - singularly failed to shine on the football pitch.
The tournament, in South Africa, features 32 teams. It starts on 11 June, with the final match played on 11 July.
Related Internet Links
The BBC is not responsible for the content of external sites.