Household wealth grows five-fold in past 50 years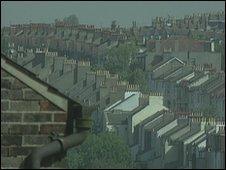 Household wealth in the UK has risen five-fold over the past 50 years, according to the Halifax.
The total worth of households' property, savings and investments, was £6.3 trillion ($9 trillion) at the end of last year.
It gives an average value per household of £237,000, three times the £73,000 in 1959 (at today's prices).
The difference between household wealth and value per household is due to the rise in the number of homes since then.
There were 16.7 million private addresses 50 years ago, compared with 26.6 million last year.
Of these, 22.1 million - 83% - are in the private sector with 68% owner-occupied. Fifty years ago, 72% of households were in the private sector, but only 43% were privately owned.
At its peak in 1981, the social sector - for example, council housing - accounted for 33% of homes.
House prices have risen faster than earnings over the period. Average earnings grew by 2% annually, with house price inflation at 2.7% on average.
As a result, housing wealth accounts for more than a third of assets, compared with just over a fifth in 1959.
The 1980s saw the most notable change in values, when people's collective assets more than doubled.
Despite the steep rise in value since 1959, households were less well off at the end of 2009 than they were in 2007.
Collective wealth fell by 15% between 2007 and 2008 because of falls in the housing and share markets and despite some recovery over last year, it is still 8% below the peak reached in 2007.
Nitesh Patel, an economist at the Halifax, said governments' actions had been significant contributors to the change: "The past half century has seen a dramatic increase in wealth for UK householders.
"In addition to greater overall economic prosperity, government policy measures such as Right to Buy and the privatisation of nationalised industries, coupled with the liberalisation of financial markets, have provided the impetus for increased household wealth in the forms of both housing and financial assets."
Related Internet Links
The BBC is not responsible for the content of external sites.