Music piracy unstoppable, Universal admits
By Ian Youngs
Music reporter, BBC News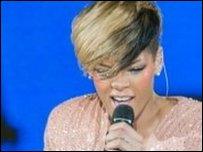 An executive from the world's largest music company has admitted that global piracy cannot be stopped.
Francis Keeling, vice president of digital at Universal Music Group International, said: "Are you going to stop piracy? No you're not.
"To try and set that as an objective is just not going to succeed. Can we make piracy socially unacceptable?
"Absolutely, and that has to be our ambition around the world." Universal's artists include Lady Gaga and Rihanna.
Speaking at the Great Escape music convention in Brighton, Mr Keeling said: "We've got markets like Spain and Italy, where [people say] 'You buy music? What are you doing buying music when you can get it for free?'
"Clearly those markets are in the situation where, unless we can turn those markets around, we're going to have a major problem having a music business there."
Universal has been prominent in the fight against illegal file-sharing.
It has also thrown its full weight behind the UK's Digital Economy Act, which will bring in sanctions against serial offenders, including the possibility of temporary internet suspensions.
The controversial law was approved last month and Mr Keeling stressed it was the "right solution".
He also said he was confident the new Conservative-Liberal Democrat coalition government would "remain supportive" of the bill.
The details of the sanctions and how they will be imposed now have to be worked out.
"The solution needs to be fair, proportionate and implemented well," Mr Keeling told delegates.
Related Internet Links
The BBC is not responsible for the content of external sites.