Karzai's diplomatic language in US charm offensive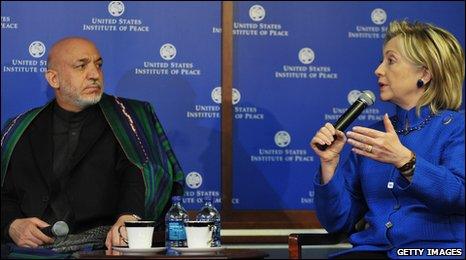 Afghan President Hamid Karzai spent the last evening of his four-day charm offensive in Washington with US Secretary of State, Hillary Clinton, answering questions from an audience at the US Peace Institute.
Gerard Russell of Harvard University's John F Kennedy School of Government watched the webcast for the BBC News website. Here he highlights some of the most significant passages, comparing and contrasting them with earlier statements by Mr Karzai.
His overall verdict: "Mr Karzai's phrasing was very diplomatic indeed - showing the care both sides had put into making sure the visit was a success."
President Karzai uses the phrase "peace process" three times in his first answer. It's not the first time he has used the phrase, but it is still not the US term of choice: Hillary Clinton hesitates a split second before she uses the term "peace effort" instead.
Mr Karzai says the "peace process" will be with Taliban and other militants, "who are not part of al-Qaeda or other terrorist networks or ideologically against us... in any way that would endanger our constitution, the freedoms, the democracy, and the progress that we have achieved".
This sounds like a neatly flexible variant on the version he put forward at the London conference, where he talked of reaching out "to those who accept the Afghan Constitution" - something the Taliban refuse to do, as they consider it un-Islamic.
Just possibly, he might mean an olive branch to Taliban even if they reject the Constitution - just so long as they won't try to undermine it.
Later on, though, when he gets another question on this and gets drawn into detail, he suggests that all he expects to happen right now is allowing Taliban soldiers to leave the movement and return to their homes.
"They're countryside boys who don't hate the United States, perhaps a lot of them would like to visit the United States given the opportunity," said the Afghan president, adding that high-level Taliban reconciliation will be too difficult to achieve right now and is "for the future".
All this is a long way away from some of his previous, more extravagant statements.
On 16 November 2008, he controversially said at a press conference in Kabul that if Mullah Omar - the Taliban leader and a major US target - were to ask for peace talks then he would offer him protection. The international community would then have two choices, he went on: "Remove me, or leave if they disagree. And both are good."
Analysts differ over Mr Karzai's attitude. Some believe he really did want a peace agreement with Mullah Omar, and has since been persuaded out of it by the USA.
Others belive that his 2008 remark was never seriously meant. In any event, he appears to have backtracked.
GOVERNANCE AND CORRUPTION
At the US Institute of Peace, Mr Karzai said: "There is, of course, the issue of governance in Afghanistan, handling corruption in Afghanistan, and making sure that we complete our success in all aspects as soon as possible so Afghanistan is a prosperous, good, peaceful country, so you are much more secure here in the United States and the rest of the world."
Talking to Al Jazeera in January 2010, he struck a similarly complacent note, claiming that the "Western media" had "blown corruption totally out of proportion in Afghanistan".
But he spoke out once on this issue with startling frankness.
Speaking in Pashto at a conference in November 2007, he denounced Kabul's political class, including himself: "Our round-the-clock efforts are focused on how to hatch plots and plant discord among ourselves... by contrast, our properties increase day by day.
"To whom do these deluxe and luxurious buildings and houses belong to? They either belong to Afghan government officials or belong to those sitting in the parliament. The nation has nothing.
"The people only had mud houses... It is my house that is full of glasses and is gleaming, or the houses of cabinet members, senior authorities, or MPs that are big and gleaming."
He still criticises corruption within his own government in some public speeches, but never in such firebrand language. Perhaps it is no coincidence that the self-critique was made when Karzai was aware of US and UK proposals for a super-envoy to be sent to Kabul, a move which he apparently interpreted as a threat.
Before his visit, Mr Karzai listed three priorities that he intended to address in his discussions with the US: detention centres, civilian casualties, and night-time raids.
This is what he had to say on the first of these, on Thursday: "We have agreed that there will be a transition of detention centres to the Afghan authority (from) January of next year."
In May 2005, reacting to violent anti-Coalition street protests, he said at a press conference: "We want our prisoners kept in Afghan prisons. Period. We've told them [the Coalition] that."
That goal may now, finally, be in sight.
On civilian casualties, he said President Barack Obama, Hillary Clinton and other US officials had expressed a "fundamentally strong sentiment", adding: "The desire for the protection of civilians was strong and very, very visible. The question of night-time raids that concerns the Afghan people was raised... and an instruction issued to reduce it to the minimum possible."
This suggests there was little concrete progress in this area. Mr Karzai's language was mild when compared to a famous speech in December 2006 when he appeared to denounce Coalition airstrikes, wiping away tears as he said:
"We can't prevent the Coalition from bombing... our children are dying because of this. This is cruelty of the highest level."
His spokesman said that that particular speech was a spontaneous reaction to civilian deaths that had upset the president. Alternatively, Mr Karzai may have felt that it would benefit him politically to disassociate himself from unpopular airstrikes, although (at least in theory) he has always had the authority to stop them from happening.
Mr Karzai said Afghan and international forces had "adopted the right approach" in relation to a proposed spring or summer offensive against the Taliban in Kandahar.
"We are talking of a process there and the process means bringing conditions to Kandahar and the region around where there is better governance, better resources, more active, vigorous, vibrant intelligence activity, and then if and when and where needed, an operation militarily in consultation with the community and backed by the community. This is (the) approach that we have adopted and this approach will definitely succeed."
During his visit to Kandahar on 4 April, President Karzai promised community leaders that "until you're happy and satisfied, we will not conduct this operation".
He still appears to be holding to that pledge.
If he does, it could be a rare example where Mr Karzai is seen by his people to have decided the course of military action in his country - which might be a boost for his credibility as a leader.
At USIP Mr Karzai said that when it came to reconciliation with the Taliban leaders, they were "mostly beyond our reach and mostly in our neighbours in Pakistan". He added: "We'll have Pakistan also involved in a lot of regional questions..."
Pakistan has been a target for President Karzai's most vehement complaints. In December 2006, in Kandahar, he accused Pakistan of wanting to 'enslave' Afghanistan.
In saying so, he was appealing to a hostility many Afghans feel for Pakistan's military establishment, which they blame for the years of Taliban rule in Afghanistan.
When speaking in English, and especially since the accession of President Zardari in Pakistan, Karzai has been much more guarded in his language.
"We have in place all the necessary tools to make sure that the election is credible and in keeping with the standards that WE can apply IN AFGHANISTAN."
The emphasis is his. He is putting down a marker that the election may not match up to Western standards.
He is pre-empting the kind of criticism that beset last year's election in Afghanistan, in which some critics alleged up to a third of the votes were fraudulent.
This, though, is a major toning-down of rhetoric from one of his most controversial speeches, delivered to the Afghan Independent Elections Commission (IEC), on 1 April 2010, and describing those controversial 2009 elections:
"No doubt, there was huge fraud. There was vast fraud. The fraud is not by the Afghans. This fraud has been done by the foreigners.
"During the election, some of the embassies tried to bribe, while some of the other embassies wanted to give the IEC members armored vehicles to achieve their goals."
Tactfully, no public reference was made at all to the 2009 elections during this visit - reflecting the fact that they are in the past, but also that they were the immediate cause of the recent soured atmosphere between the US and Karzai.
Related Internet Links
The BBC is not responsible for the content of external sites.