Pension scheme membership declines, ONS says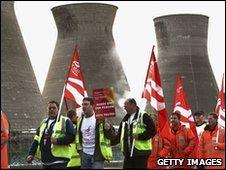 Only half of employees in the UK are now in pension schemes run by their employers, says the Office for National Statistics (ONS).
Between 1997 and 2009 the proportion in company schemes fell from 55% to 50%.
The proportion of full-time self-employed men paying into personal pensions also fell, from 64% to 45%.
The ONS figures also reveal that people are more likely to be in a pension scheme if they are high earners or are in a high socio-economic group.
"According to the new Wealth and Assets Survey (WAS), membership of pension schemes in Great Britain is closely related to socio-economic status," the ONS said.
The latest chapter of the ONS publication "Pension Trends" takes figures from a variety of official surveys and data sources.
The main conclusion is that membership of company pension schemes has continued to fall during the period from 1997 to 2009.
Within that, the proportion of employees in salary-related pension schemes fell from 46% to 33% and those in defined contribution schemes dropped too, from 9% to 6%.
However, this was partly offset by a rise in the proportion paying into group personal pension plans (up from 1% to 6%) and those in stakeholders' schemes, who amounted to 4% of all employees.
Overall, the ONS says, in 2008 there were nine million people paying into company schemes, down from the peak of 12.2 million in 1967.
The decline of company schemes in the private sector has been particularly marked.
Only 3.6 million private sector employees were in them in 2008, down from 6.5 million in 1991 and the peak of 8.1 million in 1967.
Meanwhile, active membership of company schemes in the public sector has strengthened, up from 4.2 million in 1991 to 5.4 million in 2008.
The lack of pension provision among self-employed men has increased sharply.
By 2008, the proportion who had stopped paying into such a scheme had risen to 25%, and the proportion who had never paid into one rose to 32%.
The ONS report reveals that the group most likely to be paying into an employer's scheme are men and women in their 40s and 50s, while men and women at the beginning and end of their working lives are much less likely to be contributing.
Another key factor in membership is someone's earnings - the more you earn, the more likely you are to join.
"In 2009, 75% of male and 82% of female full-time employees reporting gross weekly earnings of £600 and over were members of an employer-sponsored pension scheme, compared with 18% of male and 29% of female full-time employees earning less than £300 a week," the ONS said.
John Ball, of consultants Towers Watson, said government inspired changes would eventually alter this position.
"Between 2012 and 2016, employers will have to put nearly all of their staff into a pension scheme so they find themselves saving for retirement unless they actively choose not to," he said.
"Since low and moderate earners are less likely to be in a pension to start with, they are more likely to start saving as a result of these reforms," he added.
The ONS found that scheme membership was also closely related to social class; the higher your socio-economic classification, the more likely you are to be in any sort of pension scheme.
"In the top three socio-economic categories, around one-third of people interviewed in 2006/08 were members of defined benefit occupational pension schemes, while in the routine occupations category, only 6% belonged to defined benefit occupational schemes," said the ONS.
"Defined contribution occupational pension scheme membership was also more common in the higher categories than the lower categories, ranging from 23% for large employers and higher managerial occupations to 5% for routine occupations," it added.
Related Internet Links
The BBC is not responsible for the content of external sites.