Robbie Williams singing on World Cup song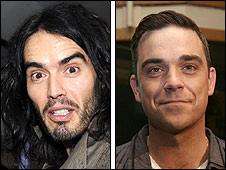 Robbie Williams and Russell Brand have been unveiled as vocalists on a remake of 3 Lions for the World Cup.
The pair share singing duties on the track, which has been revived by original creators David Baddiel, Frank Skinner and The Lightning Seeds.
Released on Monday, the song features an operatic introduction and has been produced by Trevor Horn.
The Football Association announced in January there would be no official England song for the tournament.
It is the first time since 1966 that there has been no song to mark the campaign, leading to various unofficial anthems.
The official song for the World Cup in South Africa is Time For Africa, performed by Shakira and Freshlyground.
Pop star Williams said: "I've always been approached to write football songs but have always declined as I thought 3 Lions could never be beaten, so I am really happy to be part of this record."
Producer Horn, who has replaced the terrace chants at the start of the 1996 original with an operatic opening, said the remake "had to be done".
"I am either the brave one or the foolish one who said I will have a go - I did it for England," he added.
3 Lions was first released as the anthem for the Euro 96 tournament and topped the charts.
It returned to the top spot two years later.
The song, performed under the name The Squad, also features football commentator John Motson.
It also returns to the lyrical references of the original release, including those to Gary Lineker and 1966 World Cup heroes Bobby Moore and Sir Bobby Charlton.