Sony sees its shares fall by 7% on profit forecast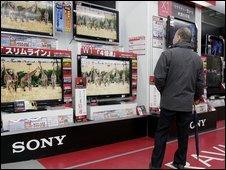 Shares in Japanese electronics giant Sony fell by 7.2% on a disappointing reaction to its profit forecast for the current year.
it came a day after the firm reported an annual loss of 40.8bn yen ($437m; £294m) for the past financial year.
Sony expects operating profits of 160bn yen this year, from 31.2bn in 2009/10.
The maker of digital cameras, flat screen TVs, and personal computers said it expected to take a hit from foreign exchange rates this year.
It also forecast weaker earnings at its finance division, which operates as an insurer and online bank.
In late trading in Tokyo on Friday, Sony shares were down 6.6% to 2,955 yen, as the earnings forecast was below what analysts had been expecting.
"The weak outlook would obviously be negative for the short term, but the focus will be on how conservative the company's stance is," said Deutsche Securities analyst Yasuo Nakane.
"Or maybe it is not being conservative, and we will find this out in the coming days."
Sony plans to launch 3D televisions this June, along with 3D-ready video games.
Related Internet Links
The BBC is not responsible for the content of external sites.